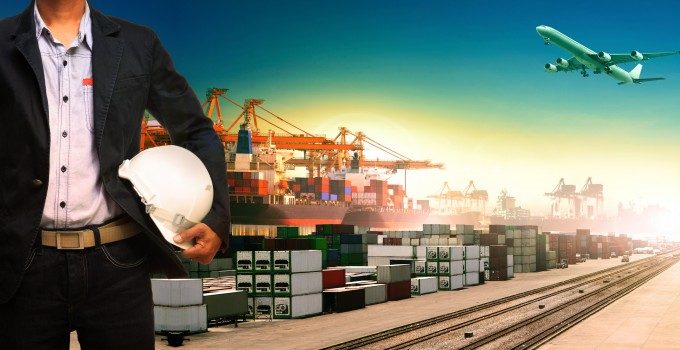 Describing its half-year results today as "not brilliant, but solid", Panalpina revealed that it has cut its logistics division's losses this year, but is still suffering from low margins and rate volatility in air and ocean freight.
However, it held costs at "identical" levels to last year, despite significant investment in IT.
While net forwarding revenues for the second half fell nearly 3%, gross profit rose 1.7% to CHF777.9m ($863.1m), while EBIT rose slightly to CHF60.1m from CHF 58.8m. Consolidated profit rose from CHF38.4m to CHF44m ($48.8m).
"The results for the first half of 2014 show two things," said Panalpina CEO Peter Ulber. "One, our uncompromising execution of the strategy that we outlined in November is starting to bear fruit. Logistics has cut losses considerably. Two, there is still a lot of work to be done in terms of profitability, especially in Ocean Freight, where – expectedly – it will take some time to make it to calmer waters."
The logistics division saw losses of CHF4.3m in the second half, a significant fall from the loss of CHF17.5m in the same period of last year. In the second quarter, logistics went into profit, for the first time in the forwarder's history, at CHF1.1m, against a CHF8.9m lass last year. However, it warned that there may be more losses this year.
The Swiss forwarder said the better results stemmed from its successful exit from overland contracts in Europe, mainly Germany, and by "turning around loss-making facilities and implementing value-added services (VAS)".
However, in a conference call following the results, Mr Ulber added: "Restructuring has needed more management attention than we had hoped for."
He said that Panalpina had turned things around in nine of the top 15 highest loss-making countries, while two had got worse.
"We will have to find ways of bringing more management and horsepower to it," he said.
In its latest analysis of contract logistics providers, Transport Intelligence outlined the difficulties for Panalpina.
"The company's supply chain management logistics business is loss-making, despite large scale investment, and has thus failed to provide a high margin counterbalance to the company's forwarding divisions. In addition, the division remains small in scale."
And, it noted, competition is challenging.
"The company is competing with other large forwarders, such as DHL and Kuehne + Nagel; both of which have greater scale of operations. As a result, the company is forced into providing cost leadership, and thus, lower margins than its competitors."
However, it also noted opportunities such as Panalpina's focus on pharma and healthcare, two industries which are increasing their outsourcing of logistics as well as the forwarder's new emphases on value-added services in targeted industry verticals, which are high income and growing.
As an example, towards the end of last year, Panalpina won a contract, which it claims to be among the first of its kind, with a Brazilian telecoms company to assemble base station boards, run software tests, package and label finished products before distributing them. The contract has seen the telecoms company reduce its end-to-end supply chain from 90 days to 20.
While its logistics division may be recovering, it also saw growth in both air and sea freight – but low margins "absorbed much of the growth", it said.
Air freight volumes grew 4%, but EBIT fell slightly to CHF57.3m.
"While rates remained under strong pressure, Panalpina put the focus on trade lane optimisation," the analyst said.
Panalpina's own controlled network utilisation was "excellent – way above other carrier benchmarks, especially on transatlantic routes". However, it noted its heavy exposure to Latin America, where growth had slowed.
Ocean freight was more challenging. Volumes grew a healthy 8% in the first six months, against the market average of 3 to 4%, but gross profit per TEU fell 5%, resulting in CHF246.6m, up marginally, while EBIT fell from CHF16.7m in the first half of 2013 to just CHF7.1m this year. The EBIT-to-gross profit margin decreased to 2.9% in the first half of 2014 , against 6.9% last year.
Mr Ulber identifed three main reasons for a "far from satisfactory margin".
"We had to invest significant amounts in upgrading key staff around the world. We have to look at the total network – we can't just fix it in one place."
The company has brought in new ocean freight managers, particularly in network development. But, said Mr Ulber, "the productivity gains won't be made until the second half".
He said Panalpina had won some low-margin, but high-volume, accounts of over 20,000teu.
"They come at a lower gross profit per unit level, either because they are intra-Asia or because  we are not involved in procurement."
Overall, Panalpina expects air to grow 3% to 4% over the full year and sea to grow 4% to 5%.
Transport Intelligence's report identified increasing fuel prices, competition from larger companies, near sourcing and overcapacity in sea and air as potential threats to Panalpina.
The company itself said it would continue to stamp out losses in logistics.
"In the mid- and long-term, better IT systems and processes will help us improve productivity and profitability as we keep restructuring and rolling out our new operational system SAP TM," said Mr Ulber.
Panalpina is spending CHF200m on its new IT system, its largest-ever investment.