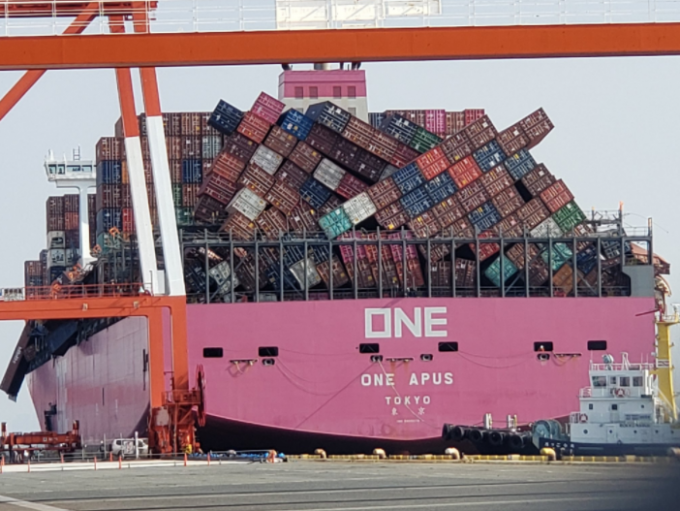 The 14,000 teu ONE Apus, which suffered a massive container stack collapse en route to Long Beach last week, today berthed at the Japanese port of Kobe.
The line confirmed yesterday that 1,816 boxes had been lost overboard, including 64 dangerous goods (DG) boxes when the vessel encountered heavy weather near Hawaii on 30 November.
"54 of the DG containers carried fireworks, a further eight held batteries and two contained liquid ethanol," said ONE.
"A notification was sent to the JRCC in Honolulu and Guam, with maritime navigational warnings subsequently broadcast. We are continuing to liaise with the JRCC in Honolulu, which has advised that there have not been sightings of any containers as yet."
Following the loss, the vessel's master decided to abandon the passage to North America and return to Japan.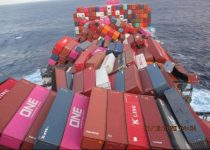 The line said: "Once berthed, it's expected to take some time to offload the dislodged containers that remain on board. Then, a thorough assessment will be made of the exact number and type of containers that have been lost or damaged."
The ONE Apus is deployed on THE Alliance's FP2 North Europe-Asia-North America service, according to the eeSea liner database, along with 17 other 14,000 teu vessels from the ONE and Yang Ming fleets.
According to the World Shipping Council's Containers Lost at Sea 2020 update, an average of 1,382 containers were lost at sea every year between 2008 and 2019.
The statistics are, of course, skewed by catastrophic casualties, such as the 2013 sinking of the MOL Comfort that resulted in a loss of 4,293 containers, the grounding and loss of M/V Rena in 2011 that saw around 900 containers lost and the tragedy of the SS El Faro in 2015 which caused the death of 33 crew members and the loss of 517 containers.
However, between 2017 and 2019, the industry managed to reduce the average loss per year to 779.