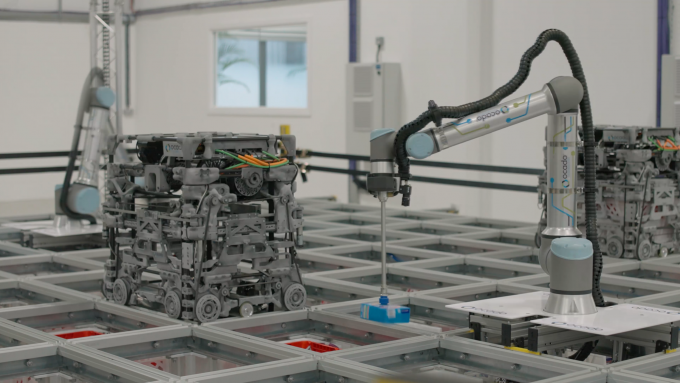 As well as a new 'staff' of 3D-printed 'bots', online grocery giant Ocado has introduced a new delivery principle.
It believes Ocado Swift Router will strike a balance between cost-efficient hub-and-spoke setups and the immediacy of gig-economy point-to-point home delivery services.
Ocado aims to capture both long lead-time orders – those placed several days before expected delivery – and  last-minute orders.
The move is likely to be regarded as an attempt to outmanoeuvre services like Deliveroo, which have moved into point-to-point grocery delivery and trying to outcompete the shopping giant on speed.
Ocado's hive network – a system of robots which run along a grid – will assemble orders with longer lead times overnight, and van routes will be set up to combine these with last-minute orders. Vans will deliver the immediate orders on the first leg of the route, before delivering long-term orders within the agreed timeslots.
"The hive will pick longer lead-time orders overnight, store them anywhere in our grid, and then in the morning decide which van route to put them on, and when," explained Hannah Gibson, chief product officer at Ocado Technology. "Any new last-minute orders can be picked up until the last possible moment, and then combined with others already in storage."
Meanwhile, another new Ocado system, Orbit, creates a 'virtual distribution centre', where several warehouse facilities, or customer fulfilment centres of a smaller size, are brought together to be treated as one, enabling a greater variety of products to be handled.
The reveal was accompanied by several other new technologies, including the lightweight, 3D-printed '600-series Bot' designed to improve energy efficiency in Ocado's 'hive' warehouses.