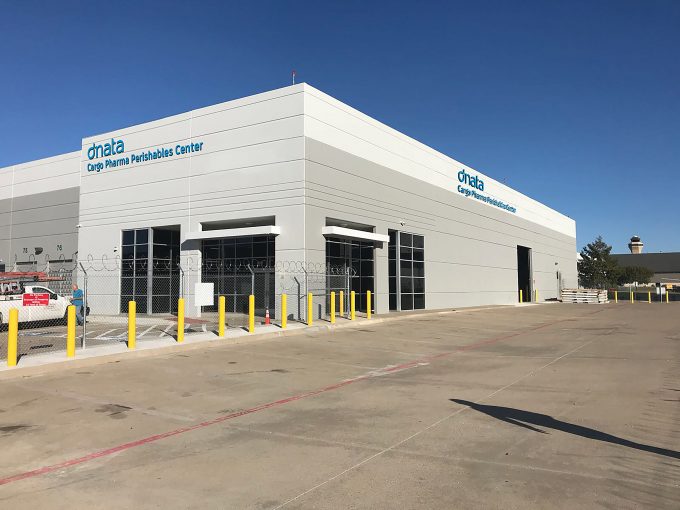 The recent opening of two new cool chain facilities has taken Dallas Fort Worth International Airport (DFW) a step closer to its objective of becoming a major gateway for air cargo flows between Asia and Latin America.
Today, Hong Kong-based e-commerce logistics specialist Tigers opened a 86,000sq ft warehouse at the airport, aiming to specialise in health supplements and cosmetics goods.
"Our new Dallas facility is perfectly positioned to allow us to deliver omnichannel orders across the US," said Amber Braband, vice president of growth at Tigers.
"Our global warehouse management system and SmartHub:Connect are integrated with customers' order management systems, allowing for real-time order processing."
Joel Bikman, chief operating and chief marketing officer at healthcare goods provider Mannatech, added: "Tigers has raised the level of service we are providing to our associates around the world by using the latest technology to manage quality control and shipping.
"As a result, we can now send out far more orders in a day than before, and they are more accurate, which means our customers will be seeing a big difference."
Meanwhile, last week, ground handling firm Dnata officially opened its new 37,000sq ft cargo terminal at DFW. Besides a general cargo area, the building houses 18,000sq ft of cool chain infrastructure with various temperature zones and represents the airport's first dedicated cool chain facility.
This is a key building block in the airport's cargo strategy, which it first outlined to The Coolstar in 2016. During the global economic downturn its management conducted a strategic review to identify opportunities for growth and concluded that its location and network made it a perfect transit point for cargo moving between Asia and Latin America.
"Miami is the established gateway for perishables from Latin America to the US and to Europe, but we can offer faster connections to Asia," said John Ackerman, executive vice-president, global strategy & development.
Given the predominance of perishables on the eastbound sector, this meant that the airport needed cool chain facilities.
"Shippers in many tradelanes between Latin America and Asia with perishables like salmon, berries and asparagus can save as much as two days by using DFW over other airports," Mr Ackerman claimed.
"DFW's strength lies in its airline network of passenger service with daily belly cargo capacity between Latin America and Asia combined with our excellent freighter services to Asia by nine Asian air freighter operators."
Shawn McWhorter, Americas president at Nippon Cargo Airlines, believed the concept had merit.
"Dallas is a good connection point between Latin America and Asia," he said, adding that DFW was the Japanese cargo airline's biggest growth market in North America last year.
For DFW, the next step is to establish a main deck connection to South America.
"Our second priority is to get a freighter to deep South America. We have one to Mexico, but we need one further south," said Mr Ackerman.
Milton de la Paz, vice-president, airline relations, said: "The big challenge is the backhaul. This is where Asia-Latin America comes into play. We are talking to Asian carriers to consolidate their Latin American freight here."
However, DFW is facing competition from a neighbour – Houston also has its sights on a regular freighter link to South America. The airport set up a perishables facility a few years ago, which has been going strong, according to Luis Aviles, senior marketing specialist, air service development.
"The air service development team sees the need to develop freighter services to and from Latin America and offer diversified distribution channels to shippers.
"The perishables facility is a success with belly freight or imports arriving at IAH by truck from the Mexican market, but the challenge is to establish that continued freighter operation to/from Latin America.
"In addition, we see a challenge and a tremendous opportunity to increase freighter capacity to/from Asia," he said.
LATAM, a leading cargo carrier from Latin America, is looking to expand its traffic to and from Asia.
"As a freighter airline, you need to look at Asia," said Andres Bianchi, LATAM Cargo chief executive.
With the departure of its last B777 freighter, the airline does not have cargo aircraft that are suitable for the transpacific market, so it relies on interline flows over US points. Outside of Latin America, Miami is its main point served with freighter, supplemented by some service to Los Angeles.
"It is where our customers want us to fly," Mr Bianchi said.
Flows through Miami have been well balanced for the carrier and other US airports do not offer a comparable balance, he reported.
However, this does not mean that new transit points are off the table. Intent on growing Asian traffic, LATAM is talking with other carriers.
"We are working on developing the right alliances and the right connection points between Asia and Latin America," Mr Bianchi said.