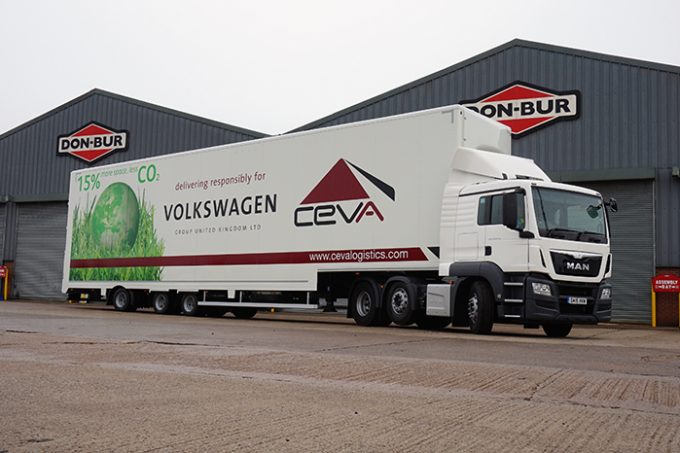 A fresh row has broken out about the use of longer semi-trailers (LSTs) on UK roads.
The storm follows the publication this week of report by the Department for Transport (DfT) after five years of trials.
The 2016 annual report into the LST trial, authored by research consultancy Risk Solutions, concludes that LSTs have cut haulage road miles and have lower accident levels than conventional HGVs.
LSTs are up to 2.05 metres longer than standard semi-trailers, 15.65 metres rather than 13.6 metres, and are not as large as the "mega trailers" or "road-trains" permitted in other countries.
They also operate under the same 44-tonne road weight limit as HGV trailers and must pass the same turning circle test, which usually involves a steering rear axle.
Last year, some 1,800 LSTs made road trips operated by 161 haulage firms, and since trials began in 2012 there have been 2.6m LST journeys. Last year, the study found that due to the higher carrying capacity of LSTs more than 10m miles of HGV journeys were removed from the roads – a 5% reduction in the number of trips by participating companies.
It also found that LSTs appear to be safer to operate.
"On a per kilometre basis, we estimate LSTs have been involved in 70-80% fewer personal injury collisions, compared with the urban (excluding motorways) average for all articulated HGVs," the report says.
Christopher Snelling, the Freight Transport Association's head of national and regional policy, said: "The success of the LST trial is clear and undeniable. It is time the DfT looked to simply establish the flexibility in law so that the UK can continue to benefit from the efficiency they bring.
"The success of this project shows what can be gained from adding marginally to the dimensions of our road freight fleet – massive carbon, air quality and safety benefits can be achieved right now. Weights and dimensions should be looked at in a rational, evidenced-based manner and not simply rejected because some campaigners do not like the sound of them.
"Almost three-quarters of goods movements are carried by road rather than by rail or water. We need to maximise the use of rail and water freight as part of making the UK's supply chain as efficient, clean and safe as possible, but they can never replace road. That is why we need to maximise the efficiency of road freight."
However, the findings were disputed by lobby group Freight on Rail, which argued that its findings were "based on flawed data and incorrect assumptions and ignores important safety factors".
Philippa Edmunds, Freight on Rail manager, said: "Despite what the DfT claims, longer semi-trailers are not the answer to reducing collisions, congestion or pollution, and are actually more dangerous than standard HGVs on urban and town centre roads because of their 7ft tail swing and extended blind spot.
"Risk Solutions should be analysing the usage and loading patterns of existing lorries to find out what will happen in real life if these longer semi-trailers are allowed in general circulation.
"There is no question that longer semi-trailers save operators money, but this is because these bigger trucks result in lorries paying even less of the costs they impose on the economy and society, with the taxpayer picking up the bill in terms of more road crashes, road damage, congestion and pollution, and this is simply unacceptable."
Risk Solutions said the LST trial mainly involved FMCG goods "and other cage or pallet loads", and that 62% of the distance travelled was between industrial locations such as distribution centres, with around 30% to and from retail sites.
It found that LST trailers ran empty for 18% of the total distance travelled, compared to 29% for all HGVs, and that the LSTs "made maximum use of the additional length for at least 34%, and made some use for 50%, of the distance travelled".
It added: "Many operators restrict LSTs to operations where they can run heavily loaded on both outbound and return legs to make the most of what is a significant investment. In many cases, this is between major distribution centres, which will mainly be on trunk roads."