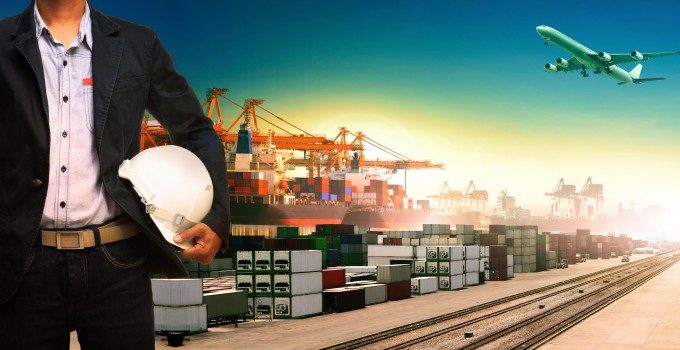 It is not often that The Loadstar gets really down and dirty with shipping, but an invitation to the DSME shipyard in South Korea (see pics below), to visit the first tranche of Maersk's Triple-E class vessels under construction, was impossible to resist.
Without getting too technical (because that's not really The Loadstar's cup of tea), it might be worthwhile, however, for shippers and forwarders to get an understanding of the type of assets that are about to be put at their service.
Sat on T-blocks in a dry dock, most container ships seem very, very big – certainly much larger out of the water than in it. The Triple-E vessels appear to be of almost unfeasible proportions, although in terms of actual dimension they are not much larger than the existing Emma-class – 399 metres long; 59 metres wide; a draught of 14.5 metres nominally and 16 metres fully laden; an air draught of 73 meters and 194,000 deadweight tonnes (a measure of how much weight it can carry in addition to its own weight).
Total carrying capacity is actually 18,270teu – a Maersk spokesman explained that when the order was first made they decided to announce 18,000teu for the sake of simplicity.
There are 600 slots for 40ft reefers.
Building 20 ships of this size takes somewhere special, and the conurbation that DSME constructed around this vast shipyard has over 200,000 inhabitants, transforming it from a small fishing village in the 1970s into a modern town complete with thousands of expats and their families. One local Korean told The Loadstar that some 90% of the businesses in Okpo depend upon the shipyard in some way, be they schools, restaurants or mechanics.
DSME itself directly employs nearly 15,000 workers and another 30,000 subcontractors, and has the capacity to build up to 70 commercial ships, four offshore oil rigs and two submarines a year.
Astonishingly, it takes around 200 to build a vessel, although some 25% of the Triple-E vessels are built at a DSME plant in China and shipped to Okpo in enormous blocks.
Interestingly, according to brokerage firm Clarksons, the price for ships the size of the Triple Es has sunk significantly since Maersk ordered them in 2011. In fact, claims Clarksons, Maersk has ended up paying some $1.1bn more than it would cost if the line ordered them today.
At the end of April, China Shipping Container Lines told the Shanghai Stock Exchange it would order five of the 18,000+teu ships at between $135 to $140m  – significantly less than the $190m price tag that Maersk received. Let's hope they are worth it.