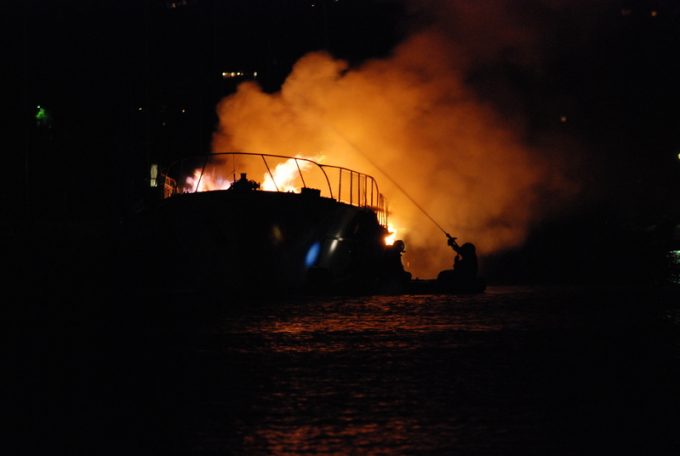 As the fire-ravaged Maersk Honam completes discharge at Jebel Ali, nearly three months after the 15,262 teu ship caught fire in the Arabian Sea, taking the lives of five crew members, there are fears of more ULCV blazes.
The cause of the fire will not be known until the investigation is complete, but evidence from numerous previous containership fires suggests the blaze emanated from a misdeclared – and thus incorrectly stowed – container of dangerous goods.
Maersk Line has commissioned classification society ABS to lead a workshop of industry stakeholders, tasked with identifying the hazards of DG goods stowage on a range of containership sizes and designs.
According to ABS, many of the potential risks are "not fully addressed by the IMDG (International Maritime Dangerous Goods) code".
It said: "The outcome will include recommendations to improve stowage planning and hazard mitigation, leading to better management of risks."
Maersk Line's head of fleet technology, Ole Graa Jakobsen, said the carrier was "determined to explore all ways to further improve safety on board our vessels".
However, despite this and similar moves, many believe the dangers of carrying a container, the contents of which are falsely declared, will continue to blight the industry.
The past decade has seen a number of serious fires on container vessels, including MSC Flaminia in July 2012, Eugen Maersk in June 2013, APL Austria in February 2017 and MSC Daniela in April 2017 – all allegedly caused by misdeclared boxes.
The general average on the Maersk Honam will be the biggest on record, running into hundreds of millions of dollars, and insurers are increasingly concerned about their exposure to risk from a ULCV casualty.
Insurers have voiced concerns not just on the misdeclared container issue, but also on the ability of the crew of a large container vessel to effectively fight a fire where the origin is a container deep in the hold.
In a recent position paper, the International Union of Marine Insurance (IUMI) said it believed "further steps are required to improve safety".
It added: "With the growing size of container vessels, the challenge of insufficient firefighting arrangements is becoming even greater."
Although it welcomed the 2014 SOLAS amendments applying to ships constructed after January 2016, it believes the proposals "do not go far enough".
IUMI's position paper includes a proposal from German Insurance Association GDV outlining additional safety measures that include separating a ship into fire compartments; a water-based firefighting system be installed in addition to a C02 system; the use of thermal sensors; and ships' superstructures being protected from flames and heat by "effective water curtains".