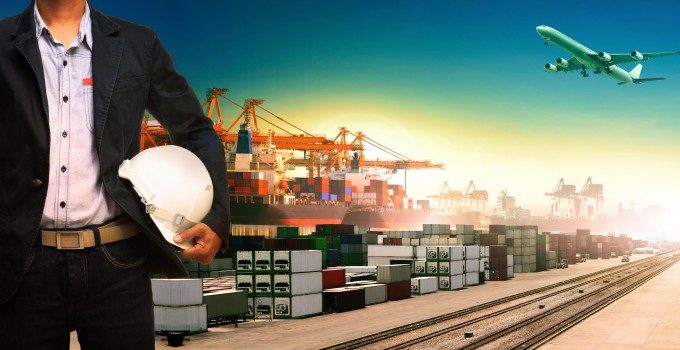 "We shouldn't be made fools of, as Europeans," declared Karl Ulrich Garnadt, chairman and CEO of Lufthansa Cargo, at the company's annual results presentation, responding to last week's criticism from Qatar Airways over Germany's 'closed' market. "We are in favour of liberalisation, but it can't be a one-way street." He pointed to the lack of competition for ground services in Middle East hubs and said: "We need to make it a level playing field, freely and without limitation."
It was a good press conference, although the timing was unfortunate – no company enjoys guiding a group of journalists through throngs of striking workers, and it no doubt took the shine off a day on which the focus was meant to be on Lufthansa Cargo. Nevertheless, the transparent and open way in which Mr Garnadt and board member finance, Dr Martin Schmitt, talked through results, strategy and plans overcame any passing interest in the strike.
Lufthansa's other bugbear, outside of a growing animosity with Middle Eastern rivals, was last year's decision to ban night flights at Frankfurt. Mr Garnadt said the carrier accepted the decision – but warned that any further bans would threaten investment in Frankfurt. "I hope not to be dragged into any political decisions now. If anyone tries to expand [the ban] we will get into a position which threatens the foundations of the air cargo centre, which is already smaller than originally planned."
He added that the new centre, to be called LCCneo, would start being built before the end of this year, and would help develop Frankfurt's position in logistics.
The carrier was honest about the challenges it faces in a competitive market with diminished demand. Operating profit in 2012 fell 58.4% to €103.6m compared to the year before, leaving an operating margin of 3.9%, but it argued that many of its competitors faced similar challenges.
"A number of carriers had significant problems, including Lufthansa Cargo," said Mr Garnadt. "But in view of the background conditions the results were more than respectable."
Lufthansa Cargo has been consistently bullish on the second half of this year, but Mr Garnadt admitted that the year so far had been disappointing,
"Indicators are pointing upwards at the moment, but the mood seems to be better than the actual situation," he said. "In major markets demand is still not at a level where we can increase capacity. March looks a little better, but the real boost won't be until the second half."
He was unable to say where the boost in demand would come from, having noted that the net traffic earnings for Asia Pacific had fallen 16.1% year-on-year.
The carrier claims to have maintained strict capacity discipline, cutting overall capacity by 8.2%, and 9.4% from its freighter fleet. However, its desire to limit capacity may be compromised with the introduction of the first of the five-strong 777 freighter fleet (which it is clearly excited about) starting in October, while the MD-11Fs still have 10 to 12 years of service in them.
Mr Garnadt also confirmed that Lufthansa is eyeing a partnership with Turkish Airlines. "I looked at it to see whether it could be valuable," he said. "We are always on the look-out for cooperation – that's not limited to Turkish. But we have no concrete plans. The Istanbul hub is better for passengers than cargo, as it's hard to reach by truck. But it is not without interest."
He broached other hot topics too, explaining that the exit from Jade was underway, but "takes longer in China than it would in Germany"; remained confident that talks with Russia would result in overflight rights for the summer schedule; and explained the reasons behind the decision to dissolve Lufthansa Cargo Charter, which made a small profit of some €500,000 in 2012. "We are re-integrating it – it doesn't make sense to have separate management and infrastructure."
(It was fortunate that Lufthansa Cargo had already announced its partnership with Chapman Freeborn – because otherwise Chapman Freeborn bosses Russi Batliwala and Shahe Ouzounian might have regretted their decision to hold a private breakfast meeting with a Cargo Charter boss at the very hotel where the cargo media were staying. The meeting inevitably increased speculation that Chapman might be about to sign up a new manager – although Mr Garnadt told reporters that the carrier was keen to keep its experienced staff from LCC.)
As the cargo media have come to expect from Lufthansa, the press conference was a fine example of best practice. The previous night, hacks were given a tour of the 'animal lounge' – where twice the number of animals (110 million) as passengers pass through the airport. The tour raised more questions than answers: Why would anyone want to send four minks from Toulouse to Tallinn? How would the handlers move the four walruses (or is that walri?) – total weight nine tonnes – due in that evening? Why do Americans prefer their German Shepherd dogs to be bred in Germany? And what would happen to the sick-looking tropical fish (which account for 80m of the animals that pass through the airport), on their way from Colombia to Hong Kong? Another scandal in the food supply chain?
(It would perhaps be unfair to single out any other carrier's press conference, but the event was in marked contrast to last year's launch of IAG Cargo, which failed to include the foreign media – a glaring oversight for a company hoping to make its name as an international airline group – and one not unnoticed by those who were excluded.)
Meanwhile, Lufthansa Cargo's open stance was confirmed by its next event – an environmental conference at which a member of the green party, who apparently has deep reservations about the entire aviation industry, has been invited to speak. That's tackling the challenges head on for you. Few other airlines would open themselves to that kind of debate.
And the strike? Just two hours after it ended, the airport was an oasis of calm, German efficiency – with few delays, queues or crowds. The carrier may be facing stiff competition, declining imports and a hostile home crowd, but you can't say it's not well organised.