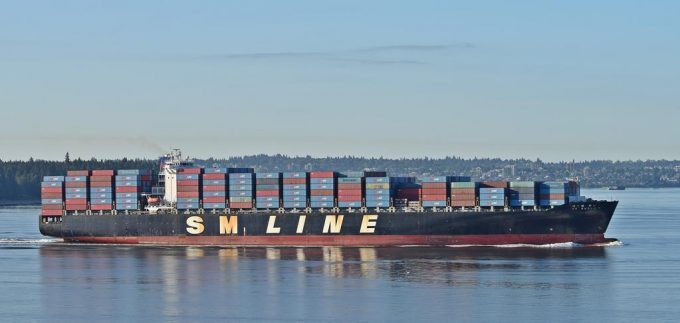 South Korean liner operator SM Line (also known as SM Merchant Marine) has reaffirmed its commitment to supporting compatriot shippers facing sky-high freight rates and tight capacity on the transpacific.
CEO Park Ki-hoon said on Monday the company was assigning all available ships to the Pacific trades and, the same day, the 6,500 teu SM Ningbo departed Busan for Long Beach.
Prior to this, a similar-sized ship, SM Busan, had also been assigned to SM Line's transpacific service, replacing a 4,200 teu ship.
SM Line, the only South Korean ocean-going liner operator besides HMM, was established in 2016 after the Samra Midas group acquired bankrupt Hanjin Shipping's remaining business.
The company signed a memorandum of understanding with the Korea International Trade Association on 8 June, pledging to offer adequate shipping slots to small and mid-sized enterprises at fair rates and is reserving 30 teu on its weekly Asia-US west coast services for the shipper group from next month.
Mr Park said: "Our manpower and systems are fully prepared to help shippers, but it is a pity that there aren't enough ships in the market."
He added that SM Line's operations staff were in touch with other shipowners round the clock in "an unrelenting effort to secure tonnage".
Meanwhile, Mr Park added, the company's preparations for its initial public offering (IPO) in the second half of this year were going well. SM Line's Q1 operating profit of $117.56m was 19% higher year on year.
South Korean media report SM Line is eyeing a listing on the Korea Exchange in September and, as the first step towards its IPO, SM Line has redesigned its website to make it more user-friendly and provide information for potential investors.