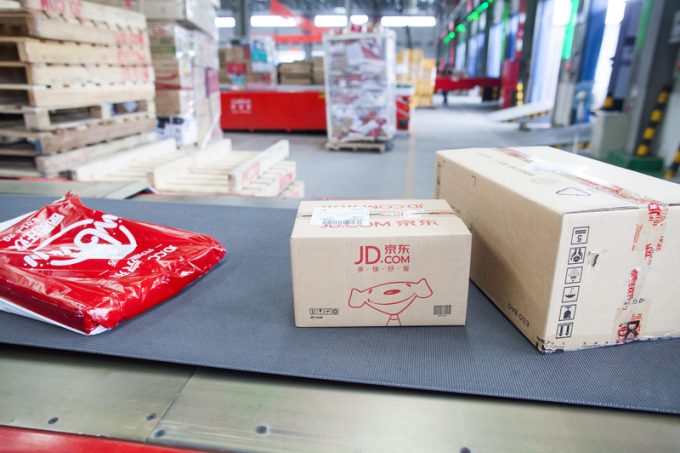 Alibaba rival JD.com has attracted some $2.5bn of investment to expand the reach of its logistics subsidiary, JD Logistics (JDL).
Investors, including Hillhouse Capital, Sequoia China and China Development Bank, entered into definite financing agreements expected to close in the first quarter.
JD will remain the majority shareholder, with an 81.4% stake, and JD.com chief executive Richard Liu said the funding would help it expand into automation, drones and robotics.
"Our decision early on to build out our own logistics network has paved the way for JD Logistics to become the industry leader," said Mr Liu.
"The shift throughout global e-commerce towards our model is vindication of this path and [JDL] will continue to support our e-commerce business and the needs of a wide range of industries."
The logistics arm of the Chinese e-commerce company has been operating since 2007, becoming a standalone subsidiary last April. Covering more than 99% of the country's population, it offers shipments of normal-sized items, bulky, cold chain and B2B.
Chief executive of JDL Zhenhui Wang said: "This financing will enable JD Logistics to further enhance its smart supply chain network with openness and integration. It is a major step, which will speed up our collaborative efforts with leading industry partners and build China's next-generation commercial infrastructure ecosystem."
The fundraising began last month with a minimum target of $2bn, with Reuters reporting that it would eventually seek to list overseas.
Two investors reportedly said the parent company valued its logistics subsidiary at about $10bn, although with JDL retaining more than an 80% share, presumably that valuation has increased.
Alongside core rival Alibaba's market cap of $483bn, JDL at $66bn has a combined market cap around 30 times that of Kuehne + Nagel and 50 times that of Expeditors.