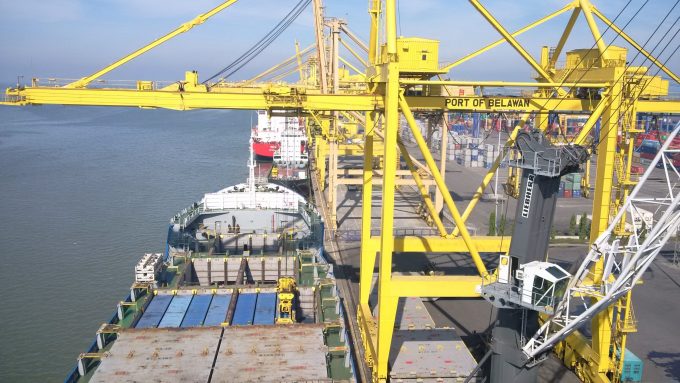 The Indonesian government wants mainline operators to call directly at Belawan, the country's busiest port after Java.
Minister of state-owned enterprises Erick Thohir said last week 95% of containerised exports from Belawan, located in northern Sumatra, were transhipped in Singapore and Port Klang in Malaysia.
Data from state-owned port operator Pelindo shows Belawan handled 550,871 teu last year, and Statistics Indonesia shows China as northern Sumatra's top export destination, followed by India, Japan and the US.
In the first five months of this year, 51% of containerships that loaded and discharged cargo in Belawan were inbound or outbound from Malaysia. Of the others, 44% moved on to Singapore for transhipment, while 5% sailed on to Thailand.
Mr Thohir said transhipment incurred more costs and time. For example, it takes 23 days for a container to be transported directly from Belawan to Los Angeles, but 31 days with transhipment.
Indonesia's landscape being islands makes it expensive to transport goods due to the need for frequent transhipment. Bank Indonesia's data shows that last year, Indonesia suffered a $6.29bn deficit in transport service, mostly caused by the cost of moving goods.
Mr Thohir noted that almost all Sumatran ports catered only for feedering, which does not benefit Indonesia economically.
He said: "We can start upgrading Belawan by improving its loading and unloading capacities to cater for large containerships, making the port suitable for ocean-going services."
The minister sees Belawan becoming a container hub port for Sumatra, where boxes from smaller ports on the island could be transhipped for ocean-going services.
Linerlytica analyst Tan Hua Joo, however, told The Loadstar upgrading Belawan would be easier said than done.
He said: "The port of Belawan is draught-restricted to 10 metres and the largest ships that can call at the port are up to 2,000 teu only. In addition, Belawan port only handles around 1m teu a year, and half of these volumes are for the domestic market. The international segment is too small to attract any major direct calls."