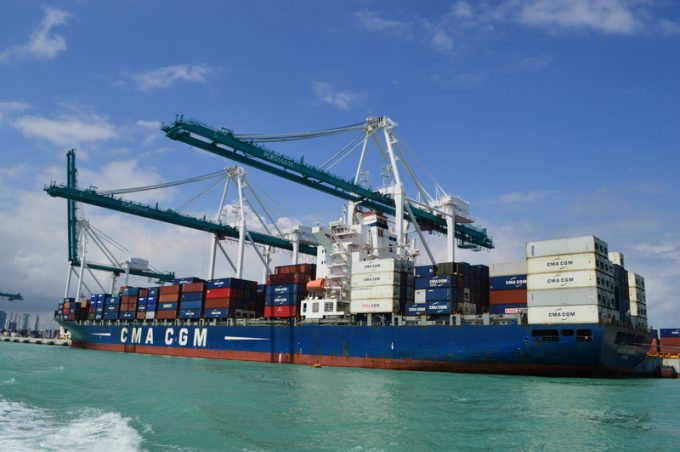 Containership owner Global Ship Lease (GSL) reported a net loss of $99.8m for the fourth quarter of 2017, which kept the London-based company's operations in the red for another year.
With the exception of two 8,063 teu ships chartered to OOCL, French carrier CMA CGM is GSL's only client and is also a 45% shareholder of the firm, which does not operate ships.
GSL's fleet of 18 container vessels, ranging from 2,000-11,000 teu, generated revenue of $159m last year, compared with $166.5m the year before. The company posted a loss of $77.3m following a negative result of $68m in 2016.
However, the result included vessel value impairments of $87.6m and a $14.4m charge associated with refinancing.
In October, GSL closed on an offering of $360m aggregate principal amount of 9.875% first priority secured notes due in 2022. The net proceeds, along with borrowings under a $54.8m secured loan facility, were used to refinance outstanding debt due to mature in 2019. GSL said that it had been able to reduce its net debt in December 2017 to $341.5m from $375m previously.
CEO Ian Webber said: "In 2017, we continued to benefit from our attractive long-term charters and strong relationships with top-tier liner companies. By maintaining full time charter employment for our fleet and extremely high utilisation levels in line with our historical averages, we ensured that we would continue to generate consistent cashflows to support our deleveraging and growth efforts."
Mr Webber said the container industry had experienced a "significant recovery" over the past year, which was resulting in "upward pressure on both spot charter rates and asset values".
Nevertheless, despite the improving situation, GSL is having to contend with the significant decline in charter rates and, as a consequence, asset values, which has impacted the market over the past few years.
Indeed, as the contract expires on a trio of 8,063 teu ships GSL acquired from OOCL on a sale and leaseback deal in 2015, backed by a 36-month charter, the shipowner is facing significant reductions in its charter revenue.
The first vessel to be returned by OOCL was taken on charter by CMA CGM, but at just $13,000 a day, versus the $34,500 GSL enjoyed with its original charter.
The second of the three ships has been extended with OOCL at an as yet undisclosed "significantly lower amount", while the charter of the final 8,063 teu vessel is due to expire in September.
Mr Webber said GSL was now in "an excellent position to pursue a range of value creation opportunities", which he said had been demonstrated with a recent acquisition of a 2,800 teu vessel which has been chartered out to CMA CGM.
According to vesselsvalue.com, the current value of GSL's fleet is around $203m, $169m as scrap.