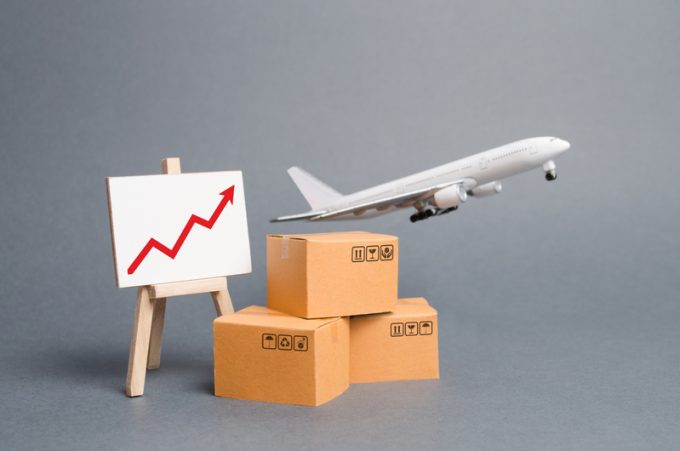 PRESS RELEASE
WorldACD Weekly Air Cargo Trends (week 17):Global tonnages in April down by -10% compared to 2022
Global tonnages appear to have stabilized in the last week of April, following a mid-month increase after dropping sharply at the end of March and declining for several previous weeks, according to the latest weekly figures from WorldACD Market Data, with rates also stabilizing and even slightly rising after a period of decline. However, looking at the full month of April, preliminary data on global tonnages indicate a decrease of -10% compared to the previous year, continuing the trend as was reported in our earlier publication on the first quarter (-11% year-on-year).
Following an upswing in chargeable weight in the third full week of April, and a continuing slow slide in worldwide average rates since February, figures for week 17 (24 to 30 April) indicate a stabilization in tonnages and a slight increase in average global air cargo prices, week on week – based on the more than 400,000 weekly transactions covered by WorldACD's data.
Comparing weeks 16 and 17 with the preceding two weeks (2Wo2W), overall tonnages increased by +2% versus their combined total in weeks 14 and 15, and average worldwide rates decreased by -1%, while capacity has grown by a further +2%.
At a regional level, the most notable development is the exceptional growth in tonnages ex-Central & South America (+29%), especially to North America (+52%), driven by +74% growth in flower exports ahead of Mother's Day on 14 May. Furthermore, tonnages between Europe and North America are on an upward trend (westbound +10%, eastbound +3%), as well as between Europe and Asia Pacific (westbound +2%, eastbound +5%), and between Asia Pacific and North America (westbound +3%, eastbound +6%). The main negative trends in tonnages can be observed between Asia Pacific and Middle East & South Asia (westbound -11%, eastbound -6%), and outbound Middle East & South Asia to Europe (-9%).
In terms of pricing, on a 2Wo2W basis, average rates show a positive trend ex-Central & South America to North America (+10%) and to Europe (+7%); but for most other major air cargo lanes, rates have been stable or decreasing, with the most significant drop seen from North America to Asia Pacific (-8%).
Year-on-Year perspective
Comparing the overall global market with this time last year, chargeable weight in weeks 16 and 17 was down -8% compared with the equivalent period last year. Most notable are the double-digit percent decreases in year-on-year tonnages ex-North America (-20%), ex-Africa (-16%) and ex-Middle East & South Asia (-15%).
Overall capacity has increased by +15% compared with the previous year, with double-digit percentage increases from all regions – except from North America (+8%), and Central & South America (+7%). The most-notable increases were ex-Asia Pacific (+36%), ex-Africa (+14%) and ex-Europe (+14%).
Worldwide rates are currently -36% below their levels this time last year, at an average of US$2.58 per kilo in week 17, despite the effects of higher fuel surcharges, although they remain significantly above pre-Covid levels.