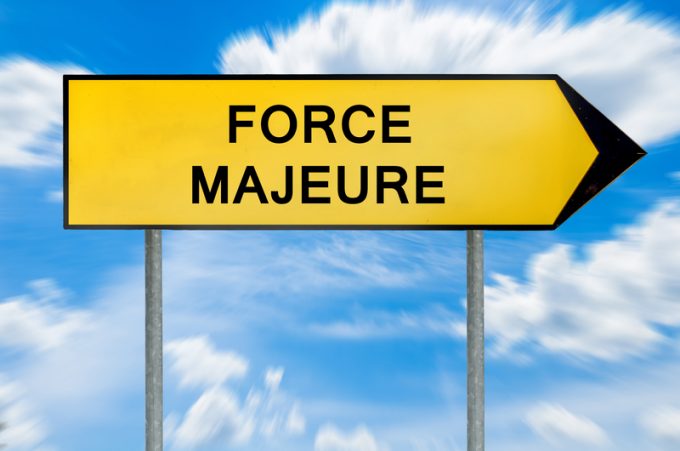 DHL Global Forwarding has declared force majeure on its sea and air freight contracts, allowing it to modify its services despite the agreements.
Invoking force majeure allows companies to protect themselves from legal responsibility, something forwarders have been particularly concerned with.
However, insurance companies are advising caution before invoking the clause.
"Force majeure is defined as 'an event, or a series of related events, that is outside the reasonable control of the party affected', which can include anything from industrial disputes and riots to a zombie apocalypse," explained Richard Kamppari Baker, claims manager for World Insurance Services.
"Many forwarders, shippers, receivers and carriers will be looking over their contracts to see whether they can forfeit their shipments, services agreements or bookings to avoid increased costs and expenditure.
"The consequences can range from damages and re-shipping costs to cancellation of freight. "
However, he added: "To invoke the clause is much harder than common belief, and there are even different interpretations between civil and common law jurisdictions.
"Generally, a delay or interruption in performance will give rise to force majeure, but whether this can be enforced will often come down to the specific wording of that clause. Get this right and you could save thousands of dollars. Getting this wrong could lead to a breach of contract and be very costly.
"If a government has closed ports, that physically prevents the carrier discharging cargo and this would generally support such a definition, but the shutdown of banks or local offices, even for the heath and safety reasons, may not be sufficient grounds."
He also said that a slowdown on shipments or bookings, triggered by an event, would rarely come under force majeure.
"Many service or slots agreements will no longer fulfil bookings, but regrettably this may not be enough for force majeure, as it could be deemed commercial."
While most international conventions, such as Hague Visby rules, refer to force majeure, he said that to successfully enforce it would depend on three factors: The choice of law or jurisdiction in which the contract is governed; specific clauses in the contract and/or overriding exemptions; and seeking legal advice.
Ironically, DHL itself warned supply chain managers last month about the dangers of companies invoking force majeure.
"With production and logistics operations across China gradually resuming, supply chain managers across industries like automotive, machinery and chemicals may soon face a new risk dimension pertaining to the coronavirus outbreak – suppliers or buyers invoking force majeure," noted DHL's resilience360 website.
"As [Chinese] authorities seek to provide financial and legal support to companies struggling with the coronavirus fallout, the China Council for the Promotion of International Trade has already issued force majeure certificates to 1,615 companies covering 30 sectors and a total contract value of Rmb109.9bn ($15.7bn) until 16 February.
"These certificates shield companies from legal and financial damages arising from not performing, or only partially performing, contractual duties such as delivering, transporting or taking cargo, by proving that they are experiencing circumstances beyond their control."