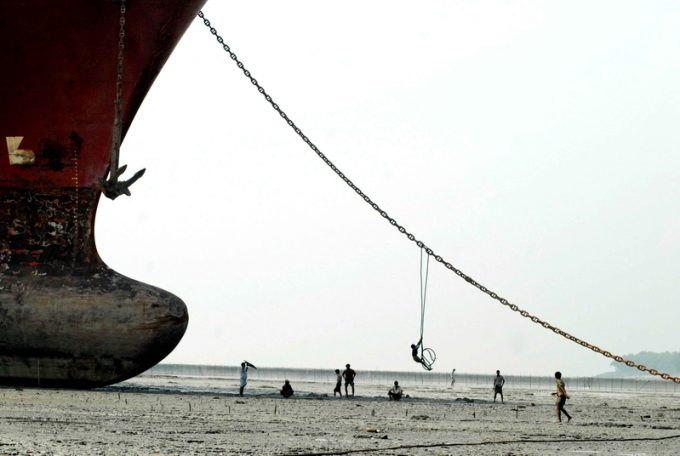 Evergreen Marine Corporation has joined the ranks of liner operators who have been demolishing or selling older tonnage as the freight market weakens.
Last week, it was reported that the Taiwanese mainline operator had sold two 1998-built vessels, 4,211 teu Ever Devote and 1,296 teu Uni Aspire. Ever Devote was sold for $555/ldt on an "as is" basis while Uni Aspire fetched $585/ldt for recycling in India.
In June and February, Evergreen sold the same-age 4,211 teu Ever Diadem and 1,296 teu Uni Ardent for recycling in India.
Cash buyer Wirana Shipping Corporation remarked: "With reference to the market and pricing for new tonnages, ship recyclers are cautiously positive, and we expect that prices offered by them for fresh tonnages to marginally improve."
Besides Evergreen, South Korean operator and tonnage provider Sinokor Merchant Marine has been gradually recycling more elderly vessels.
In the same week, the 1998-built 834 teu Sinokor Vladivostok was sold for $589/ldt for scrapping in India, after same-age and similarly sized Sinokor Akita and Sinokor Tianjin were sold for demolition in the prior fortnight. All the ships are bound for India.
In February, Sinokor sold the 1997-built 1,608 teu Xiumei Shanghai at $604/ldt for break-up in Bangladesh.
China United Lines, having been in the news for the reported detention of its co-CEO Raymond Chen after pulling out of all long-haul routes, has scrapped a vessel for the first time. Originally an NVOCC, CULines began operating ships in 2012, and purchased ships for the first time in 2021, when freight levels ascended towards historical peaks.
Clarksons reported that last week, CULines sold the 1993-built 1,368 teu UGL Hongkong, which had been chartered to newcomer Uniglobal Shipping, for $530/ldt, on an "as is" basis in Oman.
Cash buyer Global Marketing Systems (GMS) said that gains in steel prices in India have pushed up demand for scrap steel there, auguring well for ship demolitions.
GMS said: "Some of the recent container sales (in particular) have caught the eyes of many in the industry, especially as levels gradually edge back up, (approaching $600/ldt), thereby providing prospective owners of vintage units, food for thought about the potential future of their aging beauties."
Demolition levels have remained well below the 600,000 teu that Drewry predicted for this year. Just over 100,000 teu has been scrapped so far this year, as capacity discipline remains weak, despite increased blanked sailings ahead of China's week-long National Day holidays in October.
Listen to this clip of Stephanie Loomis, head of ocean freight Americas for Rhenus Logistics, talking about how carriers need to start scrapping to prevent a rates "bloodbath" in 2024.