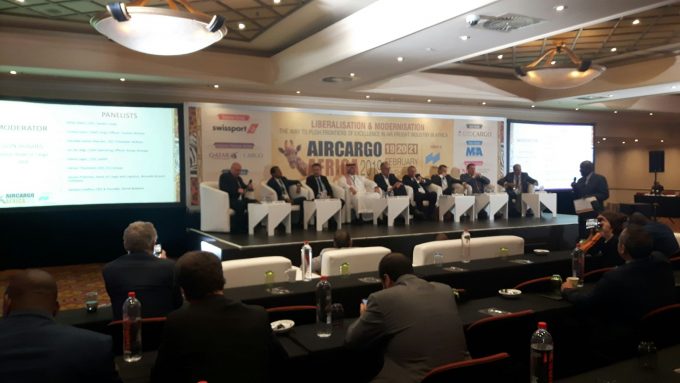 A new east-west tradelane is beginning to flourish, and could eventually overtake the traditional north-south route between Africa and Europe.
The growing influence of China in Africa, coupled with the proximity and connectivity of the Middle East and strong trade links with Brazil, could see Europe increasingly bypassed.
"Look at the map of the globe which has Europe in the middle," explained Adrien Thominet, chief executive of GSA ECS. "When you put Asia or the US in the middle, the world looks completely different. The east-west lane is like that – this is a change of the global mix.
"The real tradelanes today are China to the Middle East, to Africa and South America," he said. "As a GSA we can contribute to that."
He pointed to Brazil's close trade relationship with parts of Africa, which sees Senegal, for example, taking daily shipments of hatching eggs from Brazil.
Turkish Airlines has seen 45% growth into and out of Africa, and hopes to be to be in the top five carriers in Africa by 2020, said Turhan Ozen, chief cargo officer at the carrier, speaking on the first day of Air Cargo Africa in Johannesburg.
And Saudia Cargo, meanwhile, is developing a hub and spoke network from Jeddah to serve Africa – "We are situated perfectly to serve that market," said CEO Omar Hariri.
In what was described as a "major game-changer", at the end of last year Kenya Airways launched  the first direct flight between East Africa and the US, with flights from Nairobi to New York, a move expected to boost east-west trade.
"We are taking flowers to the US," said Jan de Vegt, chief operating officer of Kenya Airways. "We look at ways to grow business; sustainable flows that will make a sustainable cargo business."
While Europe remains the largest buyer of Kenyan flowers, new export markets in Asia are also opening up. Nairobi-based Miyonga Fresh Greens has seen "surging" demand from Asia for goods such as avocados and coffee.
Panalpina's Colin Wells, global head of perishables, told The Loadstar last month the company was seeing "year-on-year double-digit growth in what we are sending to China [from Africa]".
The change is impacting cargo flows. As Kenya sends more produce to China, countries such as Uganda and Zimbabwe are stepping up to fill the gap to supply Europe.
"In the up-and-coming Asia market, people are willing to pay a premium compared with the old markets in Europe."
He added that sellers in Kenya, South Africa, Egypt and Morocco were looking for higher yields from premium markets.
The shift to east-west lanes comes along with the rise in Africa's youthful population, which is not tied to the old traditional links with Europe.
"If you look at the next generation, these changes are linked," said Mr Thominet.