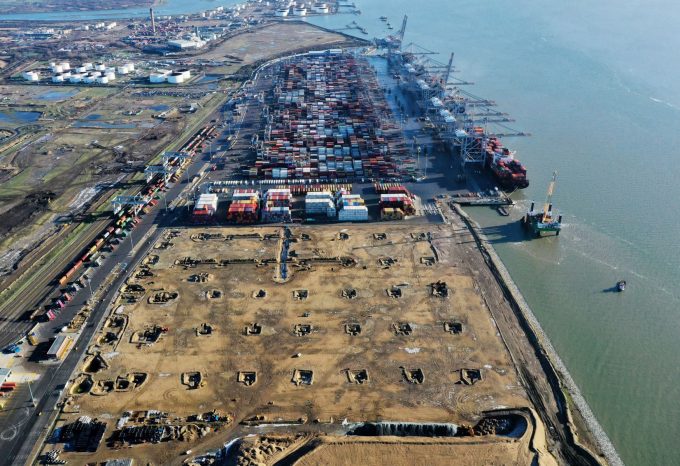 PRESS RELEASE
Dubai, UAE, 6 February 2023: DP World Limited handled 79.0 million TEU (twenty-foot equivalent units) across its global portfolio of container terminals in full year 2022, with gross container volumes increasing by 1.4% year-on-year on a reported basis and up 2.8% on a like-for-like basis. On a 4Q2022 basis, DP World handled 19.5 million TEU, up 2.4% on a like-for-like basis.
2022 gross volume growth was broad based with Asia Pacific, Middle East & Africa, Australia, and Americas regions all delivering like-for-like growth. At an asset level, Jebel Ali (UAE), Jeddah (Saudi Arabia), Angola (Angola), Sokhna (Egypt), London Gateway (UK), Constanta (Romania), Caucedo (Dominican Republic), Posorja (Ecuador), DP World Santos (Brazil) and all our ports in Australia (Brisbane, Sydney, Fremantle and Melbourne) delivered a solid performance.
Jebel Ali (UAE) handled 14.0 million TEU in 2022, up 1.7% year-on-year.
At a consolidated level, our terminals handled 46.1 million TEU during 2022, increasing 1.5% on a reported basis and up 0.7% year-on-year on a like-for-like basis.
Group Chairman and Chief Executive Officer, Sultan Ahmed Bin Sulayem, commented: "We are delighted to report another solid volume performance with like-for-like growth of 2.8% in 2022, which is once again ahead of industry forecast of a marginal decline of -0.5%. This outperformance continues to demonstrate that we are in the right locations and our strategy to offer integrated supply chain solutions to beneficial cargo owners is bearing fruit.
"Growth was driven by Asia Pacific, Americas and Australia region. Encouragingly, Jebel Ali's (UAE) high margin origin & destination cargo grew by 8.6%, with overall volume growth steady at 1.7% for the year.
"As expected, growth rates moderated in the final quarter of 2022 due to the more challenging economic environment. Looking ahead to 2023, we expect our portfolio to continue to deliver growth, but the outlook remains somewhat uncertain due to rising inflation, higher interest rates and geopolitical uncertainty.
"Overall, we are pleased with the business performance in 2022 and remain focused on growing profitability while managing growth capex. The solid volume performance leaves us well placed to deliver an improved set of full year results."
London, United Kingdom, 6th February 2023: DP World saw a 5% rise in the volume of trade handled by its two hubs in the UK last year, as the leading provider of smart logistics solutions continued to extend its reach further into the supply chain.
London Gateway alone reported a 14% rise in volumes to 2,053,000 TEU – the first time it has ever exceeded two million units in a year, consolidating its position as Britain's second biggest container terminal. Together with Southampton, the two terminals handled a record 3,850,000 TEU compared with 3,675,000 in 2021.
Ernst Schulze, UK Chief Executive of DP World, said: "We help trade flow across the globe and this outstanding performance shows our ability to deliver on our commitment to boost growth, support businesses, create jobs and improve living standards in the UK."
"Within a decade, London Gateway is likely to be handling up to 30% of the country's containerised trade. Its port-centric logistics park will be one of the largest in Europe, employing 12,000 people and underpinned by investment in a second rail terminal and a new fourth berth."
"At Southampton, we are investing to future-proof the port by improving its infrastructure and introducing warehousing facilities for our customers. We are committed to expanding its capacity as well as making it one of Britain's most sustainable ports."
Last month, DP World recently partnered with Economist Impact to launch the latest edition of Trade in Transition, a global trade barometer. The research showed that companies in the UK experienced strong growth in 2022, with expansion of up to 50% in the value of exports reported by 62% of those surveyed. 53% reported a similar rise in the value of imports.
With a global network spanning more than 300 business units in 76 countries DP World is continuing to extend its capabilities across the UK supply chain, with the latest step the launch of a new intermodal train service in November connecting London Gateway and Southampton.
Over the last 10 years DP World has invested £2 billion in the UK, supporting thousands of jobs. Over the next 10 years the logistics provider has earmarked a further £1 billion of investment, with a £350m new fourth berth at London Gateway now well under construction.