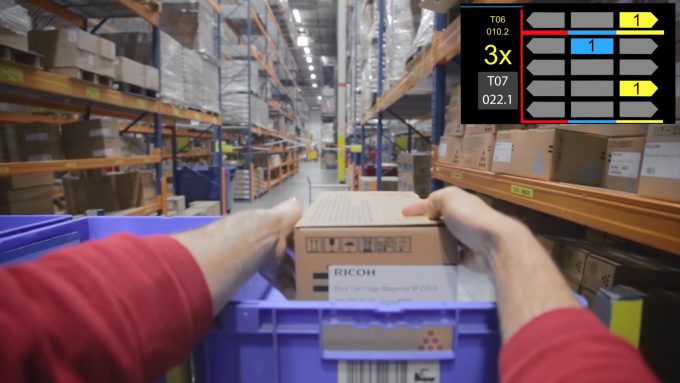 DHL Supply Chain is set to significantly expand the use of augmented reality glasses in its warehouse operations in conjunction with technology firms Google, Vuzix and Ubisoft.
The company, the contract logistics arm of Deutsche Post-DHL, is set to test the technology across new sites in the US and UK, as well as further testing at its Bergen op Zoom site in the Netherlands, where it launched a pilot programme for printer manufacturer and IT firm Ricoh in 2014.
The new sites in the UK and US will roll out the technology across other sectors, the company said, including retail, consumer and automotive industries.
DHL Supply Chain chief executive John Gilbert said: "We are excited to further test and develop vision picking as a solution that can be readily available to our customers. More importantly, this technology is not just one step towards digitalizing manual processes on the shop floor, it also takes us one step closer towards Industry 4.0.
"Testing technologies like augmented reality, robotics and Internet of Things will continue to be a big part of our DNA," he added.
A white paper on augmented reality produced by DHL following the Ricoh tests suggested that "constant picking validation can decrease errors by as much as 40%. Although today's picking error rate is very low, even using a pick-by-paper approach – experts estimate a rate of 0.35% – every error must be prevented, because it typically results in high follow-up costs."
The technology sees warehouse pickers equipped with "advanced smart glasses which visually display where each picked item needs to be placed on the trolley".
Introducing its work in the field to delegates at the 2014 eft 3PL summit in Amsterdam, director of DHL Trend Research Markus Kuckelhaus also suggested that the technology could also be applied in product repair work that contract logistics operators increasingly undertake as a value-added service for clients.
"Glasses could provide visual step-by-step instructions for assembly and repair tasks, and identify quality control issues," he said.
He added at the time that the company was looking to extend the use of glasses into freight transportation, possibly for real-time road information.
This week, DHL Supply Chain chief information officer Markus Voss reiterated the idea augmented reality would be suitable for a range of areas.
"The Vision Picking Program is DHL Supply Chain's first translation of what augmented reality solutions can look like for supply chains. The broad spectrum in which the technology can be applied across various sectors is exciting to us, and the potential of this technology for business is still largely untapped," he said.
DHL also quoted research from Goldman Sachs which predicted the virtual/augmented reality market would be worth $80bn by 2025.