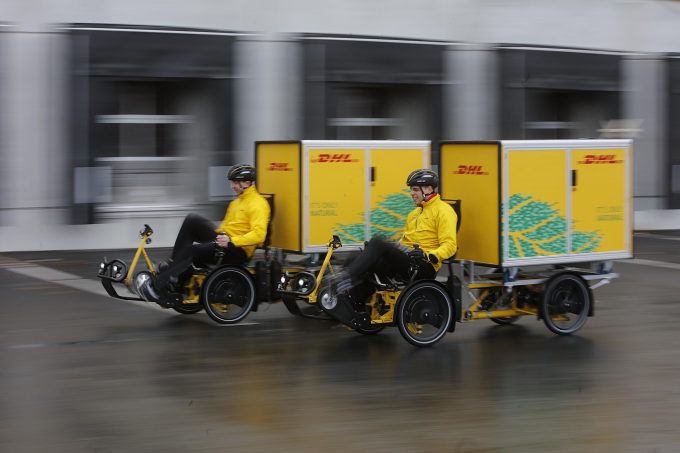 DHL Express has finally bypassed a problem that held back the roll out of its Cubicycle system in the US. 
Already operating in The Netherlands, the Cubicycle is quad–cycle capable of carrying up to 125kg of shipments, with most cycle couriers using it covering 50km a day. 
Chief executive of DHL Express Americas, Mike Parra, said it would be ideal for DHL's operations in Manhattan. 
However, a quirk of New York State law does not recognise the four-wheeled cycle as a bike, instead designating it as a car, preventing it from use in cycle lanes, and incurring car taxes.  
Mr Parra told The Loadstar that DHL had finally found a solution and an altered version of the bike would be on NYC roads by the middle of next year. 
"Our development team has dropped one of the wheels to make it a three-wheeler, which NYC authorities would allow to operate in designated bike lanes," Mr Parra said. 
"So next year we will be rolling it out not only in New York but also in San Francisco and South Florida, allowing us to cut emissions and remove further vans from the road." 
In total, Mr Parra said he expected somewhere between five and seven vans to be pulled out of operation as a result of the new bikes hitting Manhattan roads. 
It is not only the environment that has welcomed the Cubicycle; the bike is a big hit among couriers, as it offers better visibility and therefore better protection on busy roads.  
While the Cubicycle is the most visual symbol of DHL's green ambitions, the company has also added significant numbers of electric vehicles onto the world's roads. 
More than 11,000 trucks and vans are operating under alternative fuel sources – meaning electric, hybrid or propane engines – of which more than 10,000 are electric. 
The bulk of these has come from its in–house development, the Street Scooter, with more than 9,000 operating across Germany, Belgium, the Netherlands and Poland.  
This month it was also announced that an MoU had been signed between Germany and China that would boost production to 100,000 Street Scooters per year through a joint venture.  
Much like the Cubicycle, however, the company is struggling to land regulatory approval for the Street Scooter in the US, but Mr Parra said he was "keen" to get this sorted.