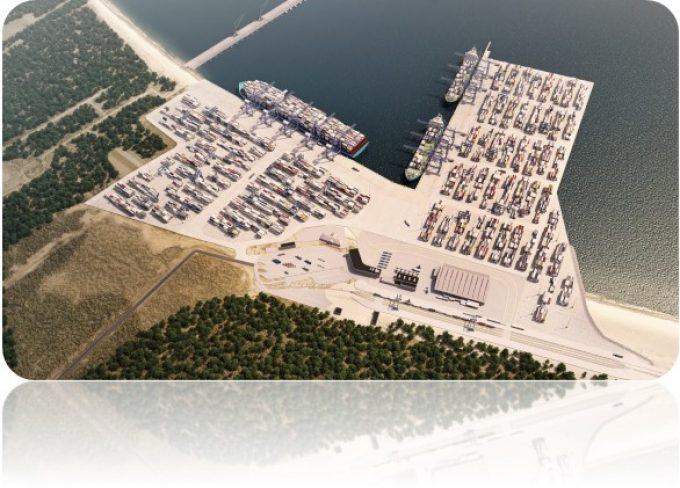 The second deepwater berth at DCT Gdansk, Poland opened this week, doubling capacity at the Baltic container hub to 3m teu.
Its timely commissioning will provide a welcome boost to the hub's growth aspirations, according to its chief executive.
The opening of Berth 2 (T2) was attended by over 400 VIPs from around the world, including the project's Australian investors and current and potential new shipping line customers.
The facility has already seen action, to ease congestion at the port in the summer, and also recently hosted a Maersk Line Triple-E vessel to evacuate empty containers.
T2 has a length of 650 metres and is equipped with five ship-to-shore (STS) gantry cranes capable of an outreach of 25 containers across the beam – able to handle the largest container vessels operating.
In an exclusive interview with The Loadstar yesterday, chief executive Maciek Kwiatkowski said T2 "could not have come at a better time" to meet the challenges of a business "that is growing strongly".
After a 10% decline in throughput in 2015, to 1.1m teu, mainly due to the Russian embargo and currency crisis, Mr Kwiatkowski said there would be a "significant improvement" in throughput this year as DCT gained more business from customers taking advantage of Poland's booming economy.
Nevertheless, expansion has not come without growing pains – weekly customer advisories from DCT in September warned of potential landside delays because of an extremely high level of yard occupancy, "exceeding 90%".
The blame was attributed to ocean vessels arriving up to more than two days late for berthing, although in mitigation, Mr Kwiatkowski said prolonged stormy weather in Europe had contributed to a knock-on effect on liner schedules.
Maersk Line became DCT Gdansk's first deepsea customer when it included the port in its AE10 schedule in May 2010, which ended when the 2M VSA with MSC commenced in early 2015.
However, in June last year, the G6 alliance announced it was extending its Asia-North Europe Loop 7 service to Gdansk, improving DCT's customer portfolio by another six carriers.
Between the 2M and the G6, and including slot charters such as Hamburg Sud and UASC and the Seago feeder service, Mr Kwiatkowski reckons DCT has handled containers for most of the top carriers.
"Fortunately no Hanjin boxes", he added.
The pinch-points at DCT Gdansk come with the import availability of the two alliance vessels, and especially the 2M ships, which can often have a discharge count of over 5,000 boxes on a call.
Mr Kwiatkowski said he was talking to stakeholders with a view to introducing a truck appointment booking system later this year.
"It is all about education," he said, "convincing the truck companies that it will actually help them as well."
A new road to the port is also on Mr Kwiatkowski's wish list, but in the interim he said that steps would be taken to improve the current access road.
He added that DCT was "in talks" with all the partners of the two new vessel-sharing alliances about direct calls at Gdansk in their new networks from next April.
He also claims "there is still room for expansion at DCT", citing the ability to install two more STS cranes at the new facility and as well as the availability of adjacent land with deepwater access.