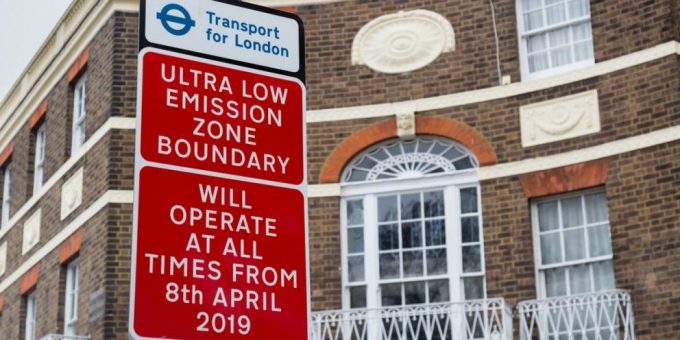 Logistics operators remain concerned at the lack of financial support for Central London's ultra-low emission zone (Ulez), which came into force today.
Mayor Sadiq Khan described it as a "landmark day" for the city as the Ulez became the first to run 24 hours a day, seven days a week.
Head of urban policy at the FTA Natalie Chapman said businesses needed more support to cope with the "financial burden" Ulez imposes.
"FTA recognises and supports the legal obligation to improve air quality and supports the principle of a low emission zone," said Ms Chapman. "But we question the effectiveness of the scheme in reducing emissions and the lack of financial support the mayor of London is providing to local and small businesses."
In December, Mr Khan announced measures to help micro-businesses (those with 10 or fewer employees) replace non-compliant vehicles in their fleet with compliant ones.
However, Ms Chapman said more was required and that funding needed to be available for "businesses of all sizes" to upgrade their vehicles.
"For example, Leeds City Council is granting businesses up to £16,000 to replace HGVs that do not comply with its clean air zone and we'd like to see London follow this," she said.
"The scheme, as marketed by Sadiq Khan, is not transformative, it simply brings forward the fleet replacement cycle at huge cost to many SMEs and operators of specialist vehicles."
However, a statement from the mayor maintained that Ulez would help address London's toxic air health crisis, which it claimed resulted in "thousands" of premature deaths annually.
The statement said polluting vehicles accounted for roughly 50% of the city's NOx emissions, costing to the capital and country of £3.7bn and £20bn, respectively, annually.
"Our toxic air is an invisible killer, responsible for one of the biggest national health emergencies of our generation," said Mr Khan. "I simply refuse ignore it; the Ulez is the centrepiece of our plans to clean up London's air – the boldest plans of any city on the planet, and the eyes of the world are on us."
But the FTA contests the effectiveness of the scheme, Ms Chapman suggesting that in the long-term it will simply result in lost livelihoods for "many SMEs" across the city.
She added: "In just a few years, the Ulez will be redundant, as the entire [UK] fleet will be Euro 6 compliant: we strongly advise government to explore other strategies to deliver longer-term changes."
She suggested "improvements to the road network and layout, investment in public charging points, retimed deliveries, and alterations to the lorry control scheme".
Exemplifying Ms Chapman's point, Menzies Distribution announced today that it had sent its 500,000th parcel via its all-electric van and human porter delivery service (Gnewt).
The service, which runs in partnership with fashion e-tailer Asos, has reportedly saved more than 80 tonnes of CO2 against standard delivery vans.
Head of business development at Menzies Distribution Sam Clarke said: "Air pollution is a major issue in London with the legal air pollution limit being hit just one month into 2019. Similarly, with the Ulez starting, drivers and brands will be forced to confront the problem with our air quality."
Fines of £100 will be imposed on non-Euro 6 HGVs that enter the Ulez – which covers the same area as the congestion charge – with vans charged £12.50.
The Road Haulage Association (RHA) has branded Ulez "simplistic", chief executive Richard Burnett saying Mr Khan had "failed to understand vehicle life cycles and has failed to allow sufficient time for businesses, in particular, small businesses to adjust".
"The prospect of having to pay an extra £100 a day will mean financial ruin for many operators. Their only alternative will be to stop servicing the capital altogether."