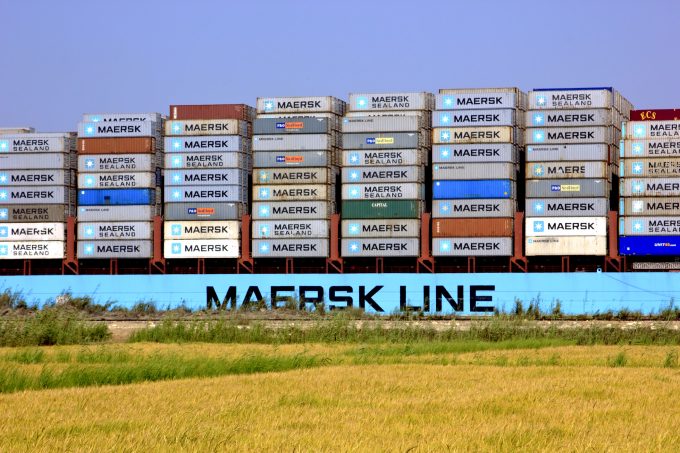 Container freight rates on the main east-west shipping trades fell further this week as carriers continued to lose the gains of the most recent price rises.
The Shanghai Containerised Freight Index (SCFI) saw declines on the North Europe, Mediterranean, US west coast and US east coast legs as carriers began to notify shippers and forwarders of new general rate increases (GRIs) on August 1.
The Shanghai-North Europe SCFI rate dropped 8.1% to $713 per teu this week, seemingly in defiance of high vessel utilisation rates, while rates on the Mediterranean leg dropped 12.4% to $664 per teu.
In contrast to the planned GRIs, this week Maersk Line announced a freight all kinds (FAK) rate of $1,200 per teu on all ports of loading in Asia to Mediterranean, and CMA CGM said its FAK rate from Asia to North Europe would be set at $1,250 per teu from August 1.
Rates from Asia to North America also suffered declines. The SCFI to US west coast ports declined by 8.8% to rest at 1,296 per feu, while rates from Shanghai to the US east coast dropped by 6.8% to 1,744 per feu.
Some carriers have begun to reduce capacity on the transpacific trade in response to weak pricing.
The members of the G6 Alliance today announced capacity cuts, despite the peak season being underway, and will next week merge the CC1 and CC2 transpacific strings.
The port rotation of the combined service is set to be Qingdao-Ningbo-Shanghai-Kwangyang-Pusan-Los Angeles/Long Beach-Oakland-Pusan-Qingdao.
However, the opening of the expanded Panama Canal has given carriers extra options in how they serve the US east coast from Asia, and yesterday Maersk Line said it would reroute its 2M alliance TP12 service from going via Suez to a round-the-world string via Panama, offering shippers vastly improved transit times into US east coast gateways.
The head of Maersk's east-west network, Klaus Rud Sejling, said: "We are changing our TP12 service to provide a better product to shippers in Korea, Northern and Eastern China. By transiting the expanded Panama Canal, we will significantly reduce transit times. At the same time, we will reduce our CO2 and exhaust gas emissions due to the shorter distance."
On the headhaul Asia-US east coast leg, the service will transit the new Panama Canal locks and call at the US ports of New York, Norfolk and Baltimore, while on the return leg to Asia it will transit the Suez Canal and call at Salalah, Colombo and Singapore.
Maersk will also add a call at Busan in South Korea to its westbound TP10 service, bringing faster transit times for Korean exporters to Charleston and Savannah. It is also set to connect its TP11 and TP8 services in a pendulum service that expands the coverage of both services. The TP18 service will remain unchanged.
The line said there would be no change to capcity with the new network formations, with 11 vessels of 8,500 teu in the new TP12 service, and 17 vessels of 8,500 teu in the new TP11/TP8 pendulum service.