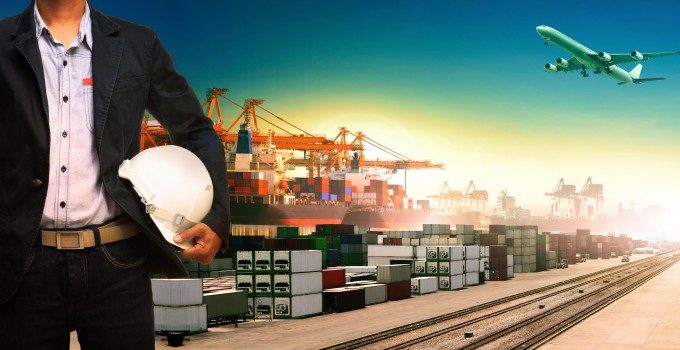 Compagnie Fruitiere and Euroports are investing €8.2m in a dedicated fruit handling facility in the port of Antwerp. Although this is not 'new traffic' for Antwerp, investment in a new 'conventional terminal complex' is challenging conventional wisdom.
Although, fresh produce shippers are still reeling from the freight rate hikes introduced by container lines early this year, the trade is far from ready to hand the perishable business to the reefer container operators on a plate.
The opening of a new conventional facility, including a new cold store at Vrasene Dock (Quay 1207), suggests there is still life in the conventional perishable logistics sector.
The new facility, called EuroFruitPorts, is a joint venture between Euroports, a company managing a portfolio of bulk and break bulk ports, and Compagnie Fruitiere, a vertically integrated fresh produce conglomerate with plantations in West Africa, and its own logistics operations.
Euroports (EP), backed of Canadian pension fund Brookfield, BNP Paribas' Antin fund, and the Anglo-Italian pension fund Arcus, holds 51% of the venture, with Compagnie Fruitiere (CF) controlling the remaining 49%. CF is owned 60% by the Fabre family in Marseilles, with Dole holding the remaining 40%.
CF has plantations in Cameroon, Ivory Coast, Ghana and Senegal and ships approximately 750,000 tonnes of fruits, including 500,000 tonnes of own production, from Africa, primarily to Europe. The company markets its fruit in Europe and North Africa, and claims a 10% market share for pineapples and 7% of bananas in Europe.
Itoperates its own shipping line, Africa Express Line (AEL), which serves North Europe on a weekly basis, with calls at Dover and Antwerp before returning to Dakar, Abidjan, Tema and Douala, as well as port/ship agency Eolis.
"Africa Express has one of the youngest reefer fleets in the world, with eight vessels, none of them older than four years," said Jean Vanmalle, managing director of Eolis Belgium, adding that the new facility was a "logical fit for the company and would help control overall cost".
Moving its business from the Sea-invest facility in Antwerp to the new terminal will also allow the company to exercise greater control over its supply chain.
The new facility will also complement CF's other dedicated fruit handling operation at Port Vendres, which is used to access the Mediterranean markets.
CF is the largest banana and pineapple producer and exporter from Africa, and is also involved in exporting cherry tomatoes during the European off-season. It is also firmly established in Morocco, where it controls a banana ripening facility, and is in the process of developing some inland markets such as Chad or Mauritania, primarily for domestic consumption.
The company also has its own distribution businesses in France (Dole France), in the UK (Dole Fresh UK) and in Spain and Portugal, and also imports fresh produce directly from Latin America.
Construction of the new facility, with 13,950sq metre cold store capacity, is expected to be completed in April, and until December its vessels were handled by SEA-invest. "This puts an end to SEA-Invest's monopoly in the fruit business in Antwerp" Mr Vanmalle said.
The first ship to call at Quay 1207, the 5,276 pallet, 532teu capacity Star Trust arrived on 2 January.
The facility will consist of two cold stores divided into eight cells, located side-by-side on the waterfront at Vrasene Dock at the old Westerlund Terminal amidst other warehouses currently used for non-perishable break bulk commodities, allowing CF to fills vessels with backhaul cargoes such as onions (shipped in bulk), cars or reefer containers.  One of the two cold stores will feature a four-high racking system and theoretically provide total capacity up to 10,000 pallets.
The cold store will also be equipped with the latest ammonia/glycol-based refrigeration system. "Energy costs remain the third largest cost factor after labour and equipment in Antwerp," Mr Vanmalle explained.
Forklifts will be used for stacking pallets inside the cold stores. Initially, transfer from the quayside to the cold stores will be across a very short distance of no more three metres, although the introduction of an automated system could be considered at some stage.
The cold store complex will have 21 loading ramps for cross-docking and 250 reefer slots, with up to 400 plugs eventually envisaged.
EuroFruitports is expected to handle 200,000 pallets in ist first phase, as well as around 15,000 containers plus volumes of palletised export cargoes and cars per year.
Euroports will provide stevedoring services using two existing mobile harbour cranes with capacities of 84 and 100 tonnes respectively.
"The heavier crane will be used for handling laden containers, with the other crane being used for discharging pallets," said Filip Persyn, operations support director at Euroports.
For the more delicate cargoes such as fresh bananas, Africa Express Line uses controlled atmosphere (CA) containers. The containers are injected with nitrogen and a specified amount of oxygen, typically 5% to create an ideal oxygen and carbon dioxide storage atmosphere inside the container for the duration of the sea passage. The low oxygen levels suppresses ethylene production, which results in reduced spoilage and premature ripening, higher yield fruit and extended shelf life, Mr Vanmalle added.
Whilst most of the vessels primarily load fruit from its own plantations, there is also significant third party business, such the Sea Freight Pineapple Exporters of Ghana (SPEG) and the Cameroon Development Corporation (CDC). CF is also operating fruit multipurpose terminals in Douala, Tema (with SPEG) and Abidjan.
On the return leg to Africa, the vessels load both dry cargo such as cars, packaging material and agricultural equipment, as well as small volumes of reefer return cargo for the African market, such as onions and potatoes.
Africa Express Line achieves between six and seven rotations for its reefer containers, believed to be well above the industry average reported by container lines.
The trip from West Africa to Northern Europe takes 28 days, including an average three-day port time in the load ports.
For the time being, the co-operation with EP extends up to the cross-dock, while CF intends to develop other activities, including its own inland trucking distribution from Antwerp through its new Eolis Belgium subsidiary. This is envisaged as an additional dimension to secure last mile control right up to distribution centres for primary distribution.