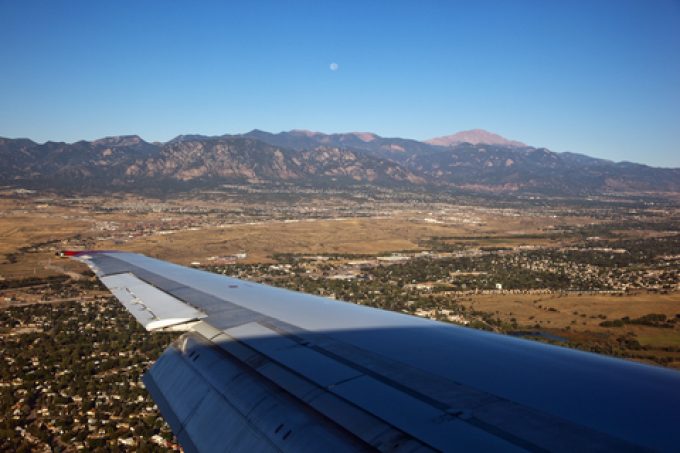 Colorado Springs Airport has ambitions in the air cargo business: a few days ago, State governor Jared Polis and Burrell Aviation unveiled dervelopment plans for a 65-acre lot for cargo handling, aircraft maintenance, cold storage, distribution and integrated logistics activities.
Burrell is looking to invest up to $110m at Colorado Springs in a private-public partnership with the airport and state and local development groups to identify and attract new interest to the site.
The company has developed a niche in areas traditionally covered by airport consultants and facility developers. Whereas the latter usually respond to requests for proposals from airports bent on developing their cargo business, Burrell pitches proposals for development to airport authorities.
Its management claims this approach generates facilities more quickly than traditional development strategies.
The initiative at Colorado Springs has taken many in the air cargo industry by surprise, as Burrell has not caught the spotlight so far – "they weren't on anybody's radar", said one industry consultant.
The past two years have been a powerful catalyst for the fortunes of regional airports aspiring to a role in air cargo, from alternative international gateways like Rockford, to San Bernardino, which has become a regional hub in the Amazon Air network.
The recent downturn and gloomy outlook for the airfreight market next year raises question marks over whether this trend can be sustained or if traffic will drain away and return to the passenger hubs. On the other hand, ongoing congestion at some of these hubs suggests that large players will continue to use alternative gateways.
Colorado Springs faces powerful competition from Denver, which is a hub for United Airlines, and Southwest Airlines also has a significant presence there and, unlike many congested hubs, Denver has ample land for development. Observers think it is unlikely that UPS or FedEx would switch from Denver to Colorado Springs.
One likely candidate could be Amazon. Professor Joseph Schwieterman, director of the Chaddick Institute for Metropolitan Development at DePaul University, has been tracking developments at Amazon Air and noted that its network still had gaps in the mountain area of the western US.
Colorado Springs would fit into this, and Amazon has sometimes ignored large hubs and opted for regional airports instead.
Beyond Amazon, there is not a large number of potential carrier clients likely to open a station in Colorado in the near future. This makes the potential investment of $110m Burrell and the airport authority mentioned look excessive for some time to come. One industry consultant reckons that airports of this size are more likely to spend between $10m and $30m. As the froth of the past couple of years has dissipated, bold investments in air cargo are not going to be at the heart of airport planning in 2023.
But Burrell Aviation looks ambitious; it has quietly built a presence at 21 airports from Alaska to Florida. It was formed in late 2019 as a division of the Burrell group, a holding company for interests in a range of sectors, from aviation, medical education and healthcare technology to commercial real estate, food services and natural resources.
The aviation division focuses on air cargo and logistics, as well as aviation support solutions in North America, through a private-public partnership model. It wants to tap into the unrealised potential of airports to play a larger role in supply chains, through the development of cargo warehouses, hangars and maintenance facilities at regional and municipal airports. The company usually enters into long-term leases, typically 30 or 50 years.
Burrell works with partners to build, market and operate the facilities and recently struck up a design-build partnership with Lemartec, a major contractor in the aviation sector, on the development of regional and municipal airport projects.
CEO John Carver said: "The partnership with Lemartec will allow us to accelerate delivery of next-generation facilities and satisfy the growing desire of airports of all sizes to generate new and meaningful jobs and help drive the regional economies which they serve."