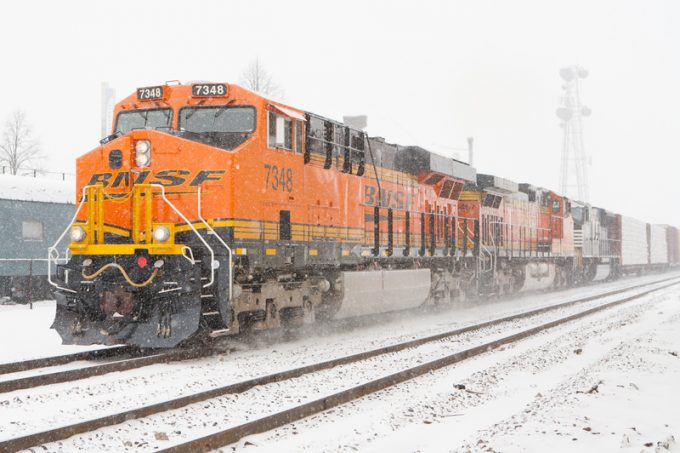 On one side, the bad railroad guys Union Pacific, CSX and Norfolk Southern. They are all spending top dollars while cutting compensation and employees' benefits to please their shareholders.
On the other, the good ones, whose staff costs and benefits are on the up, Canadian National, Canadian Pacific and Kansas City Southern, all of which are led by Warren Buffett's BNSF, the market leader by size and network among the "Class I" railroads in the North America.
With the average Joe caught in the middle, what's happening in this oft-overlooked sector is symptomatic of the clash between the financial world and the real economy, proving the needs of the latter often come second to investors' agenda.
This occurs at a time when not even cross-border tariff wars seem to harm the share prices of the majors, judging by the their strength on the stock market lately, which comfortably defies the law of gravity.
Outlier 
In many respects, railroad behemoth BNSF is a sort of outlier. Crucially, it is not listed, and doesn't use buybacks to prop up shareholder value (its parent has different ideas), unlike its smaller rivals do (to different extents, as shown by trends in Q1).
The amount spent to shrink the share count in Q1 by BNSF's closest rival by revenues, Union Pacific, stood at $3.5bn (over 3x its allocation in Q118).
UP's budget dwarfed CSX's – CSX share repurchases were slightly down to $796m from $836m, but cash outlays from short-term investments, or highly liquid securities, rose to $813m from zero in Q118 – as well as Norfolk Southern's, with cash outflows from buybacks up to $500m from $300m one year earlier.
By comparison, in the "good guys" camp, Q1 buybacks at Canadian National fell to C$419m from C$615m, while at Canadian Pacific they plunged by over one-third to C$200m, just as Kansas City Southern bought back roughly the same US-equivalent amount of stock ($50m vs $54m one year earlier).
On an aggregated basis, it's a whopping buybacks budget of about $5.2bn quarterly for the top six, in a market where broader trends in the past decade are shown in the table below.
(On this topic, you might want to read "How much lower would the stock market be without corporate buybacks?" published by MarketWatch earlier this year)
While the 2017 Tax Cuts and Jobs Act lowered taxes, specifically for US companies with the stated goal as Forbes reported "of creating jobs throughout the US"… in 2018, however, large corporations stateside "spent more than $1.1 trillion to repurchase their stock rather than invest in new plants and equipment or pay their workers more."
So, by contrast, what about the heavy investment trends we witnessed in the latest quarter for the "Class I" railroads?
BNSF IPO talk is just that?
These buyback numbers in isolation already tell a story centred on a chase for value that is intrinsically artificial, but then heavy investment trends are equally revealing. Briefly, though, before we move on to that hot topic: could BNSF be tempted to exploit latest trends and broader market appetite for railroads' assets at a time when not even trade wars seem to hinder their valuations (they are all trading close to/at record highs)?
Based on the feedback I received, a few investors looking for a juicy yield and a solid corporate story seem to be looking forward to a BNSF IPO, which would be a blockbuster deal; with ~$10bn of pro-forma ebitda, and given prevailing trading multiples for its peer group, BNSF could be valued in line with Union Pacific at about $130bn, including net debt.
However, as tempting as a public float might be, such an outcome could be a tough sell to market.
"Avoid IPOs" is Warren's message to the regular guys who invest in stocks. Incidentally, he recently said he had never bought any IPO.
Here is a privately owned railroad, arguably a benchmark in North America, that obviously has no public stock to buy back on the public market in order to prop up earnings per share (EPS), and doesn't even boast those EPS metrics that investors love so much, but it's doing pretty well nonetheless across its vast assets portfolio, judging by most metrics.
(On February 12, 2010, Warren Buffett's Berkshire Hathaway acquired 100% of the outstanding shares of BNSF common stock that it did not already own, so in BNSF's own words, EPS data is not presented because BNSF has only one holder of its membership interests)
Trendy trends? 
Underlying trends are highlighted in the table below, with mixed fortunes once the break-down by business units is scrutinised.
Still, it pays hefty and rising cash dividends – up to $1.2bn versus $1.1bn in Q1 – to its owner, Berkshire, which in turn creates wealth mainly reinvesting into the businesses it acquires (huge buybacks to the tune of $100bn are reportedly being considered, though, at parent level).
As it said earlier this month, quarterly "operating expenses for the three months ended March 31, were $4.0 billion, an increase of $106 million, or 3 percent, as compared with the three months ended March 31, 2018".
A significant portion of this increase was due to "compensation and benefits expense [which] increased primarily due to wage inflation and higher employee counts and related training costs" – these are its heaviest costs.
In Q1, it confirmed trailing trends for compensation and benefits in 2018 – in fact, they grew at a much steeper pace than its operating cost base, outpacing US inflation (inflation trends versus GDP growth since 1929 can be found here).
Notably, its Q1 capital expenditures (capex, or heavy investment) rose to $569m from $519m one year earlier.
Now, look at the others.
The bad guys here: Union Pacific's capex was down to $752m from $910m in Q118, with CSX's comparable figure fell to $353m from $368m, with only Norfolk Southern bucking the trend (up from $383m to $467m).
The good ones: Canadian National invested more, with capex up to C$703 from C$425; Canadian Pacific's capital expenditures were down mildly to $224m (vs $241m) while Kansas City Southern upped heavy investment to $179.9m from $110m, with flattish dividends.
Tax the buybacks, I say.