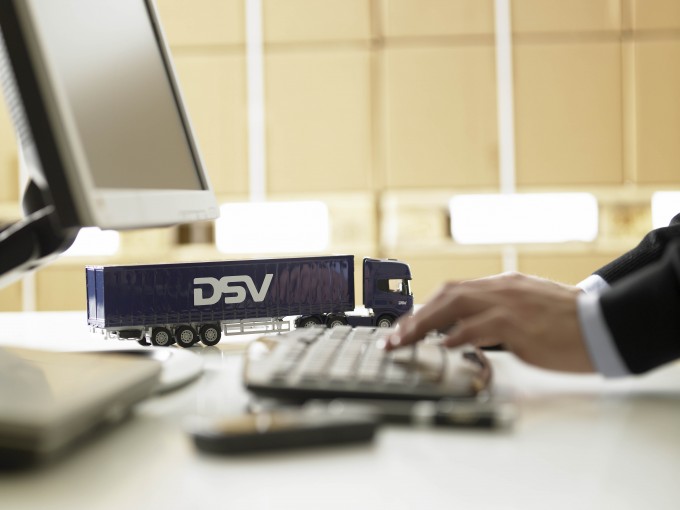 Danish freight forwarder DSV delivered a decent trading update yesterday, mostly because its integration of UTi Worldwide appears to be on track, according to executives.
Yet there were scant details about redundancies on a large scale in a follow-up call with analysts, which to my mind is odd, given that lay-offs remain a key value driver for the combined entity, as is the case in any large-scale cross-border merger and acquisitions.
Valuable staff
While its new global HR motto – "Developing staff develops the business" – stood out in its corporate magazine, I am now in the difficult position of gauging whether management's message fulfilled the expectations of a much larger entity whose success hinges on several moving parts – and unfortunately layoffs remain the most important, given that staff costs are not aligned with revenue generation and other operating expenses.
In the analyst call, management was asked, but declined to comment, about its bloated cost base. However, in a subsequent interview with ShippingWatch, chief financial officer Jens Lund said that DSV was "looking at a few thousand employees which we need to scale back". Negotiations with trade unions in various countries remain in the early stage, which means it's clearly premature for management to speculate – well, for them and others perhaps, but not for us.
In our previous coverage, we hinted at between 9,000 and 11,000 redundancies, up to 25% of its global workforce, based on the disclosure of the total headcount in its first-quarter results.
And I'm sticking with that estimate, given the pretty poor growth prospects for forwarders. While managing expectations, DSV executives still have a couple of quarters before investors grow wary of bullish estimates which don't have the backing of hard evidence, in my view.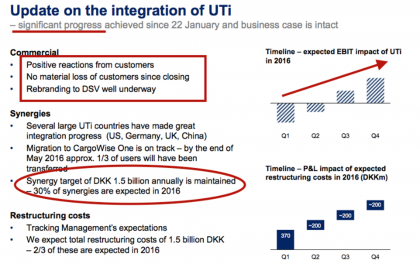 Upbeat performance & fights
While it appears certain now that DSV paid a full price to acquire UTi for $1.35bn, I have no doubt that it remains the best buyer out there for those distressed assets, whose quarterly top-line performance is shown in the table below.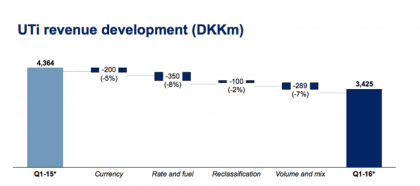 However, while the press and a few analysts were pleased to see that certain key metrics – such as adjusted operating income – were higher than consensus estimates, its operating performance now is less relevant than the integration of UTi.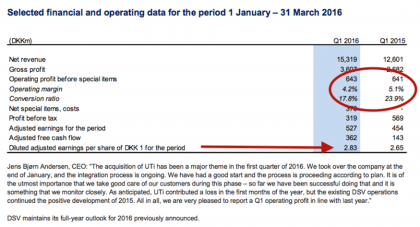 Its first-quarter financials showed DSV growing inorganically in all divisions, but they have yet to show the full impact of the transition into a new managerial experience – existing on a much broader scale; whose benefits are harder to quantify and where corporate clashes and different accounting standards will inevitably end up weighing on the success of the integration.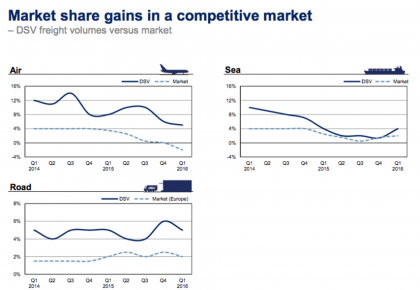 "We are not having big fights (…) with the UTi people," chief executive Jens Bjørn Andersen said in regard to the nitty-gritty of day-to-day processes. The execution is progressing smoothly, he noted – but Mr Lund sounded more cautious.
"Of course we saw some problems in the reporting," which was quite "weak", and "in the visibility" of the financials, Mr Lund pointed out.
Restructuring costs are kicking in; most of the intangibles of UTi have been written off, and a few operational hurdles are being addressed – but is DSV stitching a safety net for its shareholders?
"UTi didn't pay all the bills on time, we are working on collections," Lund noted, without committing to the combined entity being able to negotiate better terms with vendors.
DSV is buying time and investors seem confident management will deliver – its track record is very strong, regardless of the unique challenges posed by the integration of UTi.
"It's a big challenge to move volumes and (unify the) platforms (…) and you do it by country," but DSV should see the benefits as early as next year. Net working capital remains much higher than in the past at 1.6% of sales, but it will be addressed.
"If you look at the staff costs, they have quite a big central corporate structure, and higher salaries – with time UTi salares [will come into] line with DSV," Mr Lund concluded.
Financials
UTi is diluting the operating profitability of the group, and was behind a 90bp drop in operating margin to 4.2% from 5.1% year-on-year. But its combined revenues also caught my attention. Currency swings hit reported revenues in the first quarter.
Once UTi sales and currency are stripped out, DSV reported a 3.4% contraction in organic growth, while on a constant currency basis, and excluding UTi sales, DSV revenues were down 4.3% to Dkr12bn year-on-year, according to my calculations.
A bright spot was gross profit margins, up about 200 basis points, helped by lower non-operating costs as a percentage of revenues.
However, profit before tax was down 43% to Dkr319m, while adjusted earnings rose 16% to Dkr527m. On an adjusted basis, net margin came in at 3.4% versus 3.6% one year earlier, but on a pre-tax basis, profitability dropped to 2% from 4.5% — this is the price of UTi.
Meanwhile, adjusted free cash flow is rising, but operating cash flow fell to Dkr166m from Dkr348m, ROIC [return on invested capital] dropped some 400bp and conversion rates plunged, while net leverage seems to be rising well above trend into 2016.
In fairness, without proper due diligence it is hard to measure DSV's current performance given how swiftly its assets base is changing, so investors were pleased not to have found any nasty surprises in its accounts.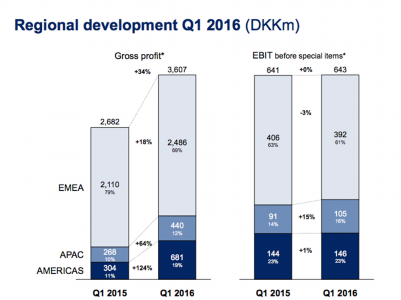 The market response was mixed when trading in Europe started on Thursday, but its shares were up over 1% for much of the trading session, outperforming most European indexes by about one percentage point until early afternoon on significantly higher volumes.
Notably, when the US opened, DSV stock rallied well over 3%, hitting a new record high of Dkr295.7 – which indicates that some big investors stateside are betting on the tie-up. Its shares were down today, faring broadly in line with European markets.
I don't think the attention DSV is drawing in the US is just limited to institutional investors. If the integration goes according to plan, there is the distinct possibility of a bidding war spurred institutional investors with big stakes in some US-based 3PL operators. It won't happen for at least another couple of years, but the purchase of Uti may actually pave the way for another transatlantic merger – assuming other factors align, of course.