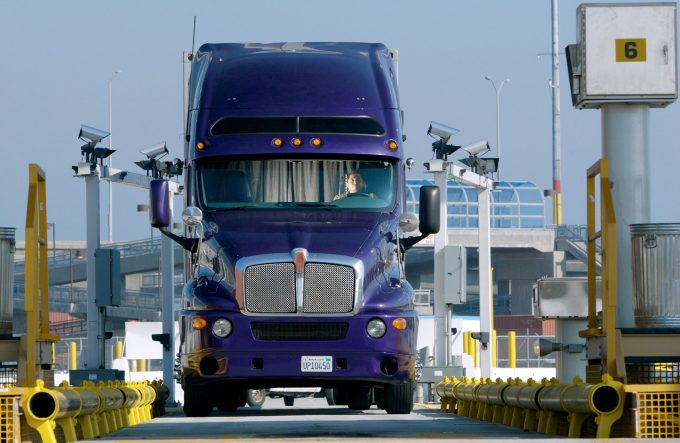 After two years of rapid growth, the number of US trucking operators is set to shrink as a result of takeovers and strong financial headwinds for small operators.
And it could turn into a rout if spot rates continue the steep decline of recent months.
Since June 2020, trucking outfits mushroomed in the US as buoyant market conditions encouraged more and more drivers to quit their jobs and strike out on their own. As the number of owner-operators soared, in their wake came a proliferation of micro-trucking firms as independent truckers hired drivers and built up small fleets.
According to Transplace, applications for Department of Transportation authority were usually between 2,000 and 3,000 a month, but over the past year, this surged to 9,000-10,000. Altogether about 110,000 new truck operator registrations were processed, 85% more than in 2020.
However, recent months brought a sharp reverse for small truckers as spot rates in the truckload sector took a nosedive, a response to slowing demand. Between January and May they slumped over 70 cents per mile, a descent that turned into a giddying drop in March and April, which each saw a decline of 30 cents a mile.
With demand and pricing falling precipitously as fuel costs spiked, truckers in the spot market have been hit by a triple-whammy, battering owner-operators and micro fleets particularly hard, as they have little capital to absorb the higher fuel costs.
Faced with shrinking demand, seriously decimated rates and higher costs, truckers in the spot market are fighting for business with players trying to undercut competitors to attract loads.
Lior Ron, head of Uber Freight, reckons tens of thousands of small operator-owned trucking firms could be forced out of the market if prices fall a further 10%-20%.
"The first casualties are the small guys unfortunately, because the operational costs are higher," he said, as pundits predict the current high-cost fuel environment will last into 2023.
So far, numbers of truckers have not fallen significantly, suggesting many are still hanging on to tough-out the headwinds. However, there are indications that some are returning to employment with larger firms, offering their service as contractors, or are dropping out of the business altogether.
Driver employment numbers have climbed, surging by 7,000 in February. But lately there have been signals that truckers are walking away from solo businesses. Carrier authority revocations jumped to a record in March and were slightly lower in April, according to Transplace.
On the other hand, federal government approvals of new carrier authority applications were at a record of around 11,000 in March, but pundits have argued that these were applications filed when the market was still looking rosy.
Similar trends are playing out in the port drayage market in Savannah, where spot rates have fallen from over $2,500 per container last year to between $1,500 and $2,000. Amid warnings that rates could sink another 15%-20%, observers predict that owner-operators will seek employment or lease their services to drayage fleets.
Meanwhile, larger trucking firms find themselves scrutinised by bigger fish and logistics or brokerage firms. Merger and acquisition activity has been lively, and is expected to remain so in the near future. Recent moves include the takeover of RoadTex by Echo Global Logistics, John Christner Trucking by Hirschbach Motor Lines and Clean Car Connexion by Mark-It Express Logistics. At the top end, Ryder Logistics received an unsolicited $4.4bn offer from HG Vora Capital Management.
Some of this M&A activity has been attributed to the prospect of rising interest rates, which is forcing potential buyers to move before their debt load increases. In any case, some trucking firms will disappear into larger units, while a host of owner-operators will be pondering a return to employment or an exit from the industry.