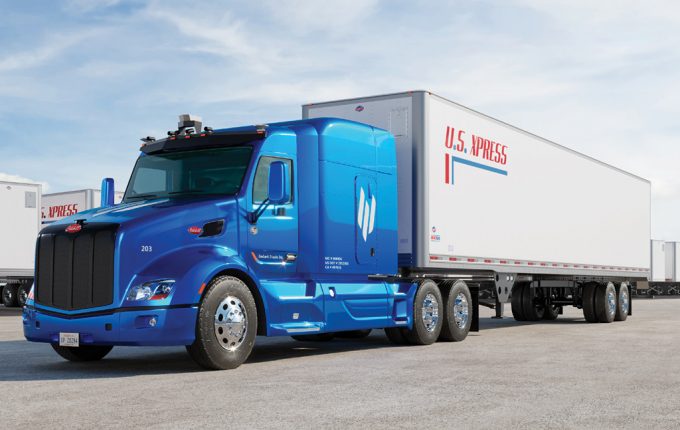 Knight-Swift, the largest player in the US truckload industry, is set to consolidate its lead in the market with a takeover of US Xpress.
US Xpress ranked seventh in the truckload hierarchy last year, has agreed to a deal involving about $808m.
It is the biggest takeover in US trucking for years, and follows TFI International's acquisition of UPS Freight for $800m, although that was in the less-than-truckload (LTL) sector, and last summer's DB SChenker takeover of USA Truck for $435m.
According to the pair, US Xpress will add about $2.2bn in annual revenue, a boost of around 30%, to Knight-Swift's turnover, with $1.8bn generated in the truckload segment.
In terms of fleet, US Xpress has some 7,200 tractors and 14,400 trailers, and together comprise a fleet of about 25,000 tractors and 93,000 trailers.
Knight-Swift affirmed its interest in growth through acquisition at the end of January, with president and CEO David Jackson, saying an acquisition of an LTL was the foremost priority.
He described the decision to acquire US Xpress as "an opportunistic" move and a "rare opportunity to acquire a company of this scale".
For shareholders in US Xpress, the deal is a rare opportunity to get a generous return on their investment. Knight- Swift is set to pay $6.15 a share for a firm valued at $1.50 a share the day before the announcement.
Unlike most of its competitors, the smaller carrier has struggled in recent years. For 2022, it tabled a net deficit of $40.5m and management had embarked on a restructuring plan, aiming to reduce costs by $25m a year.
Knight-Swift will assume $484m of outstanding debt and finance leases from US Xpress and, not withstanding these burdens and the relatively high purchasing price, some observers believe the takeover could prove a bargain for the larger player if it manages to turn US Xpress around.
Mr Jackson said: "Although it will take time, particularly given the current freight environment, we would not have pursued the transaction unless we were confident in achieving our return thresholds within a few years."
In its announcement of the deal, Knight-Swift said: "Portions of the US Xpress business are performing reasonably well, such as the Total Transportation subsidiary, while the most underperforming irregular route business unit matches up with Knight-Swift's strengths".
US Xpress will continue as an independent brand after closure of the deal, expected by the end of the second, or early in the third, quarter. Its top management will remain in place until then.
As the headwinds for US truckload operators are not expected to disappear in the near future, pundits have predicted more consolidation in the coming months. And Mr Jackson signalled that the US Xpress acquisition would not be the final move of his company this year.
"This transaction will not slow down the geographic expansion of our LTL network or our other growth initiatives, as our financial and other resources remain significant," he confirmed.