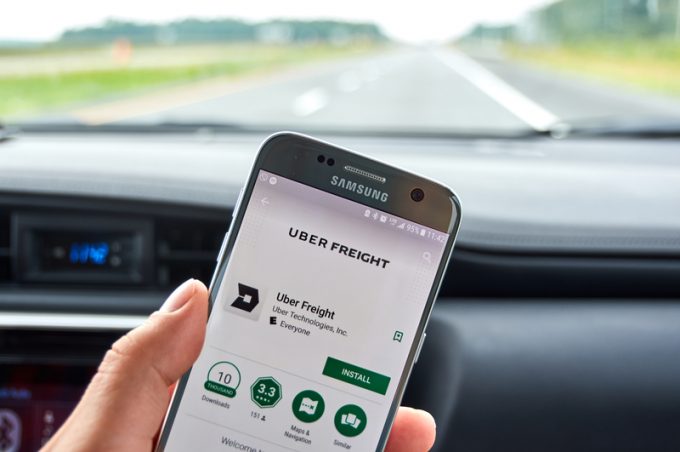 Uber Freight is forging partnerships with software providers in an effort to broaden its appeal, but will it be enough to avoid the chop from its parent company?
Uber is in the process of a strategic review of its business, recently laying off 3,000 employees and closing 45 offices, following an earlier purge that saw over 3,700 staff go.
In an e-mail to employees, Uber CEO Dara Khosrowshahi said management was "making really, really hard choices right now".
A major part of this is a re-evaluation of non-core business segments where the company has been losing money – such as Uber Freight,  which continues to bleed cash.
For the first quarter it lost $64m in ebitda, while revenue fell to $199m. But this marked an improvement over the final quarter of 2019, when Uber Freight produced a $81m loss.
However, an Uber spokesperson denied the group was entertaining the possibility of exiting the freight business.
"We remain committed to growing the Uber Freight business, innovating in the freight industry, and supporting our partners – carriers and shippers alike.
"The news from a couple of weeks ago does not impact our product roadmap, or our ability to provide best-in-class service to our customers," they added.
Nonetheless, some observers doubt if it will ever get back into the black. Cathy Morrow Roberson, founder and head analyst of Logistics Trends & Insights, noted that there were lots of digital brokerages in the US market, and none stands out or makes money, including Uber Freight.
Nor has any of the contestants unveiled a convincing strategy to achieve profitability, she added.
She said Uber Eats, the restaurant delivery arm, performed better than Uber Freight in Q1 and is likely to see improvement in the current quarter – unlike the freight brokerage side.
"If the trucking market is down, digital brokerage goes down," she said.
If the parent company decide to cut the freight business loose in its quest to become profitable overall (an objective that management had aimed to reach by the end of this year but now expects to see in 2021 – at least in terms of ebitda), who would buy a freight brokerage with close to $200m in revenue?
Ms Roberson reckons the most likely candidates would be Walmart or a large multinational logistics provider that wants to add truck brokerage to its portfolio.
At this point a sale is unlikely, though, as Uber has a strong enough balance sheet to wait for better times, when the freight brokerage would fetch a higher price, Ms Roberson thinks.
While its future hangs in the balance, Uber Freight is seeking to broaden its reach through alignments with tech providers that offer other logistics functionality.
Last month, it announced a partnership with BluJay Solutions, a provider of supply chain software and services. Via an API, Uber Freight integrates directly with BluJay's transport management platform to provide instant quotes, booking and carrier matching.
BluJay, which is owned by private equity firm Francisco Partners, claims to handle over $18bn in annualised freight over its platform, of which $3bn is managed by its own team on behalf of shippers.
The alignment apparently set the pattern for another partnership Uber Freight announced last month with Oracle. This will feed Uber's real-time quotes to the Oracle Transportation Management Cloud.
Ms Roberson sees merit in the alignment strategy, as it extends beyond the cut-throat online brokerage market. The combined value of a transport management system with Uber Freight's pricing functionality should appeal to shippers, she said.
Whether or not this will be enough to avert the spectre of a sale of Uber Freight is another question. At the end of the day, Uber Freight is not a logical fit with Uber's ride business and management may come to the conclusion that it's a distraction not worth pursuing.
"Uber has a problem and has to figure out how to turn a profit in its core business," Ms Roberson said. "They have to decide what they want to be. Do they want to be a taxi service? Do they want to be a tech company?"