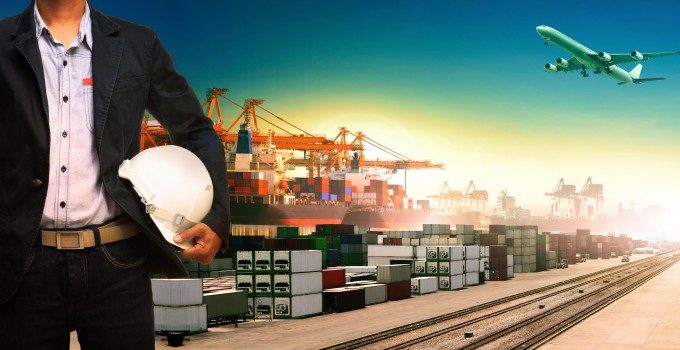 The UK's largest clothing retailer, Marks & Spencer's, has said that it will continue with its strategy of contracting directly with ocean carriers, despite the loss of the man who introduced the policy.
Jason Keegan, head of logistics at the company's general merchandising (GM) division, is due to leave the company on 1 November and will take up a new position with B&Q. In an exclusive interview with The Loadstar, M&S's IT and logistics director, Darrell Stein, said that his role had become split with the opening of its giant new distribution facility at Castle Donnington last month.
"I split GM into two, because I wanted someone to concentrate on the new shed. That was the job Jason was latterly doing and he is being replaced by Tim Owrid in January. His job is to run today's e-commerce business and the new shed – I think that's a big enough job by itself," Mr Stein said.
Mr Owrid is currently head of logistics at Supergroup.
Mr Stein has appointed long-term M&S executive Andrew Walmesly to run the remainder of the GM logistics business, including international freight. "He's a retailer by background, and I wanted a retailer because I wanted to improve the link between retail and logistics.
"I hired Jason four years ago and he's done a great job, but he's based in Yeovil and has young children and B&Q is much closer. It's a shame to lose him but the team underneath Jason is very strong and it doesn't just depend on one person," Mr Stein continued.
He explained that the switch from using forwarders to sign ocean contracts to doing it in-house had been an initiative of Mr Keegan's and had been very successful in terms of curbing costs. Marks & Spencer's target is for the logistics division to bring £175 million in savings per year by 2015.
"Jason showed me the savings we were likely to make and we went for it because it was cheaper for us to do it by ourselves. And it has proved to be a good move, even with putting in the extra heads. I look at the net, net, net position, and we are ahead of the game.
"We've got no plans to change the policy of contracting directly with ocean carriers, but if someone was to come along with a plan that involves using a third party which would save us a whole load of money then we would look at that. We are not in the freight business ourselves but we went that way because we could take a whole load of margin out. If there was another way of doing it that could save us more money we would."
He added that a "soft benefit" of the switch is that has made M&S less dependent on external help, "and it helps drive intelligence – so we know when to use air, when to use sea, when to use fast sea options. We have done a lot of work on helping to educate our business that you only use airfreight when it's fast fashion products or there's been other disruptions and you need urgent fulfillment."
By taking greater control of its supply chain Mr Stein has also managed to push the needs and dynamics of the logistics division further up the company's agenda. Asked how much influence the division has on overall sourcing decisions, he said it was "getting there".
"Today general merchandise does the buying and we do the moving. A true supply chain function would combine the two of those but we don't have that today. But we are getting more and more influence, for a couple of reasons – firstly we have saved a lot of money and so we have credibility at the board level; and the second is that we are in a very tough business environment at the moment. It is hard to sell clothing and people are very interested in things which will save them money. That has forced us to look at every single aspect of cost across the business, and once you get into multiple years of savings you have picked the low hanging fruit and you are onto more difficult things."
He also defended the strategy of having the procurement department also work on freight contracts. "Procurement doesn't work for me, it reports to finance, which I think is the right thing because it is independent. In our department we will have our preferred suppliers, but procurement doesn't care about those, and every contract we sign has to signed-off by procurement."
The trick, he argued, was to involve procurement officers in the management of the M&S supply chain. "I have seen that tension in other companies I've worked at before, however we work quite well together. Procurement sits on our virtual management team in the division and the procurement guy attends those meetings – he understands the strategy and what we are trying to do and it works well."
This is the first installment of a two-part interview with M&S head of IT and logistics Darrell Stein. The second part will be published next week.