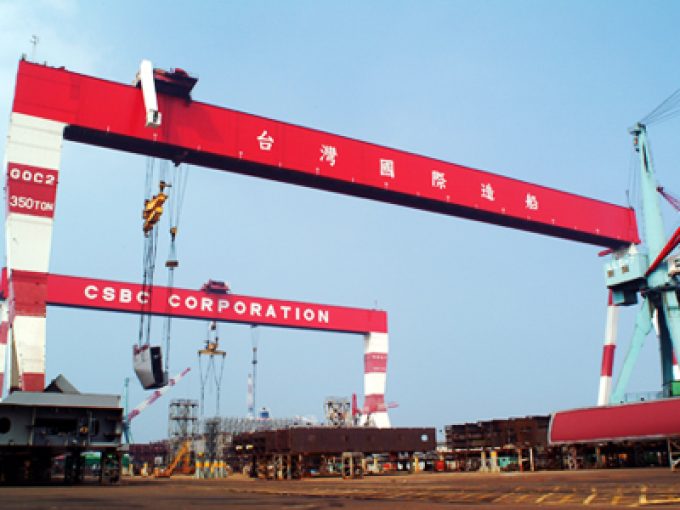 Taiwanese shipbuilder CSBC Corp has high hopes that the booming container shipping market will end its drought of merchant ship orders.
Yesterday, management announced they were in discussions with clients to build 15,000 teu and 2,000-3,000 teu vessels.
CSBC VP Chou Chih-ming said although the global economy was showing signs of weakness, due to the global target of achieving zero carbon emissions by 2050, shipping companies were increasing capital investments and rushing to order newbuilds to replace old and leased ships.
This is despite the orderbook for containerships standing at an all-time high, with vessel databases showing 880 ships of a combined 6.9m teu under construction –an orderbook-to-fleet ratio of over 30%.
Of these, 90 are 15,000 teu vessels, and there are at least 140 ships in the 2,000-3,000 teu range.
CMA CGM is among operators and tonnage providers continuing to order new ships, and has reportedly shortlisted Dalian Shipbuilding to build five 15,000 teu methanol-fuelled vessels.
Mr Chou noted that by early next year, the International Maritime Organization wants a 5% reduction in carbon emissions and, thereafter, the reduction will be stepped up 2% annually, reaching 11% in 2026.
He said: "Shipping companies have two options, one is to build new ships, the other is to slow-steam existing vessels."
Mr Chou noted that, while newbuilding orders had recovered in the past two years, shipbuilders have been challenged by rising raw material prices.
The Taiwanese government has a stake of more than 27% of CSBC through the National Development Fund, Ministry of Economic Affairs and CPC Corporation. Last year, CSBC ended four years of red ink with a modest $345,000 net profit. As merchant ship orders faded, it has been focusing on constructing naval vessels for the government.
CSBC is, however, also building four 2,800 teu ships speculatively, and has invited tenders from 20 shipping companies to either lease or purchase them. Bids submitted by 10 companies are being assessed.
The boxships will be delivered by Q3 23 and CSBC expects them to make a positive contribution to its bottom line next year.