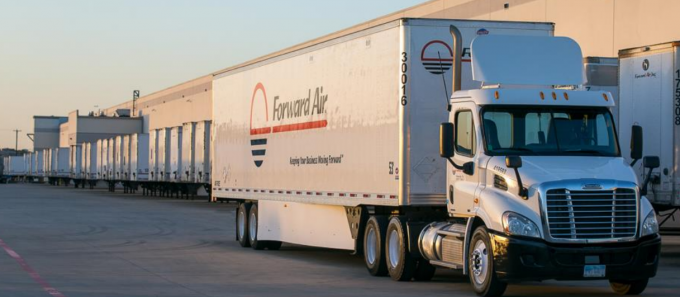 Forward Air has had a bumpy ride in recent months. In December, the trucking firm was the victim of a ransomware cyber-attack that hit its bottom line to the tune of $5.7m.
Management has also received heavy criticism from former executives who had acquired a 6.3% stake in the firm and argued that Forward's board had given poor operational oversight, were pursuing the wrong strategy and failed to optimise the balance sheet.
Their campaign culminated in an open letter to shareholders asking them to elect four candidates to the board they had put forward.
The warring factions have since signed a truce, which saw the most vocal critics, founder Scott Niswonger and ex-CFO Andrew Clarke, getting positions on the expanded board.
The company's business appears to be improving; recently several financial analysts have issued estimates of its earnings that envisage revenue growth at about 4% this year,  but it remains to be seen how the growth strategy of the new board will pan out.
Mr Niswonger and Mr Clarke had directed much of their criticism at Forward's shift from its core road feeder service (RFS) business to LTL and final-mile activities. Not surprisingly, this has not gone down well with forwarders using its RFS offerings.
"They're moving more into the commercial market, which is a concern," said one, who believes the foray into door-to-door services is turning Forward into a competitor.
A spate of price hikes on 1 February has not endeared the trucker to its forwarder clientele either. The general rate increase averaged 6%, but this was accompanied by a litany of accessorial charges, such as an airline pick-up/delivery fee of between $75 and $250 and a number of area surcharges.
"All these surcharges are having a significant effect on our business. It's difficult to explain them to customers when they see service levels are decreasing," one forwarder commented.
Arguably, more irksome than the higher charges is the change in service levels, notably different hours of service in California and Texas, which have resulted in reduced windows for pick-up in some markets.
Bob Imbriani, executive vice-president international at Team Worldwide, noted that service levels at a number of trucking firms had deteriorated, for which he blamed the driver shortage as well as elevated traffic levels that have put the industry under strain.
While the congestion at ports and airports has received a lot of attention, problems with road transport have not been highlighted much, although the sector has been struggling with similar issues, he said.
"Another contributing factor has been consolidation of trucking companies, which has limited some of the options in certain trade lanes," he added.
"The situation is forcing forwarders to examine new and alternative ways to get what they need," he said. These may include looking for other strategic partners, increased use of common carriage or developing more solutions in-house.
"We value our strategic partnership with trucking partners and look to strengthen these, but we have to look at customers and at service levels," he said.
Team has a trucking operation, Team Transportation, which it is looking to use in strategic tradelanes. Other forwarders are already leveraging in-house trucking capabilities, and some have even extended this to other cargo agents, Mr Imbriani said.