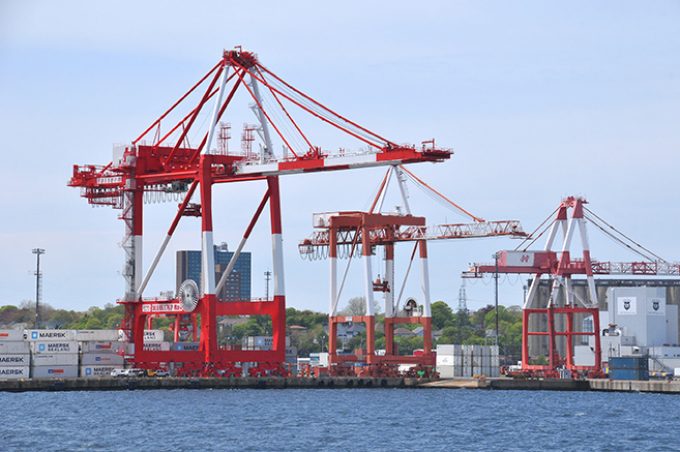 The Canadian port of Halifax has completed work on a berth expansion that allows it to handle two ultra-large container vessels (ULCVs) simultaneously at its South End container facility – now it is addressing the flow of information between port users.
The project had been in the making since January last year, when dredging began. A super post-panamax crane was installed in the summer, the fifth such crane at the port.
"The completion of this project comes as we are seeing the first of the 15,000 teu-plus ULCVs calling at our port, and it will help ensure we remain a competitive international gateway," said Halifax Port Authority president & CEO Captain Allan Gray.
A 800 metres in length and with a depth of 16 metres, it is the longest and deepest berth in eastern Canada, able to berth two ULCVs or three smaller vessels that usually ply the routes to the Mediterranean and Northern Europe and regional sectors.
Halifax has been locked in a strong competition with the port of Montreal. However, Karl-Heinz Legler, general manager of Rutherford Global Logistics, does not regard the extended berth as significantly moving the goalposts in this contest.
"Montreal receives mostly transatlantic traffic on 2,000-4,000 teu containerships," he said. "It simply allows Halifax to handle higher volumes as trade increases."
The lay of the land may change, though, when large container facility plans at Montreal and Quebec City come to fruition, he added.
"What needs to be seen is the impact of the Contrecoeur Terminal on Montreal's south shore (deeper berth, larger ships) as well as Quebec City's container terminal project that could, potentially, divert the bigger ships away from Halifax to those two locations," he said.
On 19 October, Canadian Pacific Railway signed a multi-year agreement with Maersk to move the container line's freight through the ports of Vancouver and Montreal.
During the summer a series of strikes at Montreal that lasted four weeks prompted some lines to divert their vessels to Halifax and St John. This resulted in considerable backlogs at all three ports that took weeks to clear. Montreal had a backlog of 11,500 containers when the strike ended.
Now the Halifax port authority is addressing communication between the port, operators and users in an effort to streamline operations and allow better collaboration. It has signed a five-year contract with Saab for an automated port management information System (PMIS) like the one that the Swedish multinational has installed at the port of Vancouver. All requests for services will be funnelled through the platform, which can be used for real-time monitoring as well as the co-ordination of services.
"We are a data-driven port," said Captain Gray. "We expect the PMIS to be the single source of information that will transform our business. It will make operations transparent to all members in the port community in real time. And it will make it much easier to measure performance.