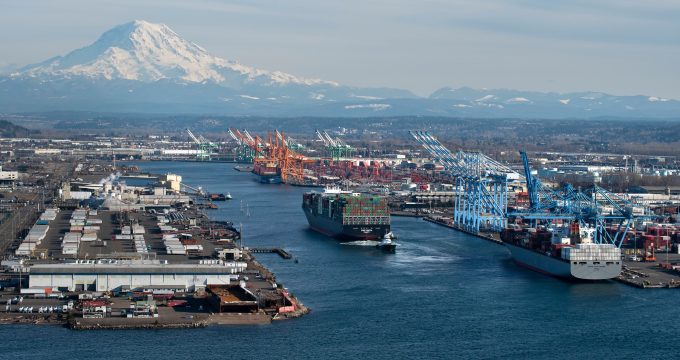 The US Department of Agriculture (USDA) is on a mission to facilitate agriculture exports this year.
Its latest move is a partnership with the Northwest Seaport Alliance (NWSA) for a 49-acre pop-up container site in Seattle, where farmers and their logistics providers can drop off their exports.
This should result in quicker pick-ups of empty boxes, ready access to available equipment and fewer congestion issues for truckers.
As part of the plan, the US Farm Service Agency will make payments to agricultural companies and co-operatives that place shipments at the pop-up site, doling out $200 per dry container and $400 for a reefer box.
The scheme has two objectives: to alleviate congestion problems; and to secure containers for agriculture shippers, as over the past year, availability of containers for exports and congestion and demurrage charges have been massive headaches for this sector.
"Congestion-induced impacts to vessel schedules and prioritisation of returning containers empty to Asia have significantly raised the barriers for exporting agricultural products in containers, resulting in lost markets and disappointed customers," said the USDA.
The NWSA reported a drop of nearly 30% in exports of agricultural commodities in the second half of last year, while the ratio of loaded versus empty containers leaving the port complex has shifted to predominantly empty boxes since last May.
Craig Grossgart, SVP global ocean at Seko Logistics, finds the pop-up box yard concept useful. He said: "The two biggest issues the west coast ports have is container yard space and labour productivity.
"If pop-up yards can effectively increase container yard space, that's a good thing. It does, however, come at a cost. Before you had one move, now you've got two truck moves."
The USDA's agreement with the NWSA follows a similar arrangement with the port of Oakland at the end of January to set up a 25-acre site for containerised agriculture exports. Transportation secretary Pete Buttigieg said at the time: "This will help American farmers and agricultural producers move their product to market, while also making better use of empty containers that are causing congestion at the ports.
"After we helped set up inland pop-up ports at the port of Savannah, we witnessed significant improvements in the flow of goods, and we expect to see similarly positive results once this Oakland facility is open."
He was referring to an initiative in Savannah last autumn driven by the Department of Transportation, where Washington funnelled $8m of federal funds into the creation of pop-up container storage yards to take the pressure off the port's container facilities.
The USDA says it continues to look for opportunities "to join hands" with more ports or intermodal container facilities to support US farmers and agricultural producers get their goods to market. According to some sources, there have been talks about a container facility at the port of Los Angeles, but these were stymied by disagreements between operators and labour.