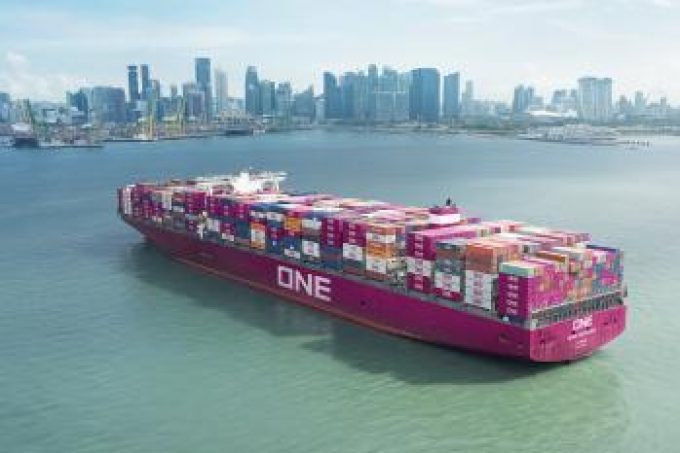 The Ocean Network Express (ONE) management "underestimated the initial launch resource requirement" in April, resulting in a significant loss of business and a $400m impact on its bottom line.
This was the stark admission of chief executive Jeremy Nixon to a group of investors in Tokyo this week.
Profitability from synergy cost savings of $1bn a year was promised from the merger of the container businesses of Japanese shipping groups K Line, MOL and NYK – instead the carrier expects a net loss of $600m for its first year of operation.
The root cause of the disastrous launch was "inevitable teething challenges", including a lack of staff, staff familiarisation with the adopted NYK systems and "system data integrity".
Mr Nixon explained that during the height of the problems, booking and documentation staff had worked weekends and holidays in an endeavour to eliminate the launch backlog. Daily crisis meetings of senior management were held to address the issues and "kaizen" (improvement) teams were despatched to all operations centres to help revive communications.
But there was a gross underestimation of ONE's resource requirements and emergency measures also included outside recruitment.
Loyal shipper customers of the Japanese carriers deserted the new entity in droves after the collapse of its booking and documentation systems. According to ONE statistics, vessel utilisation plunged to low 70% levels on both the Asia-to-US and Asia-to-Europe headhaul trades from previous individual load factors of more than 90%.
And rival carriers, both inside and outside ONE's alliance, were quick to pick up the slack.
Alphaliner said recently CMA CGM and Cosco had been the biggest beneficiaries on the transpacific and on Asia-to-Europe, Hapag-Lloyd's growth was robust as the lead line of THE Alliance.
Moreover, the carrier network was "unable to collect all" the detention and demurrage charges due in the first six months, which would have resulted in ONE being obliged to pick up the tab for quay rent and extra container hire charges at terminals around the world, and for the leased equipment.
Mr Nixon explained that ONE's "group 1" rehabilitation plan consisted of the "recovery of liftings" across its main tradelanes and the "enhancement of detention and demurrage collection".
For next year, he said, the "group 2 action plan toward restructuring" will include cargo portfolio optimisation, product optimisation, organisation and synergistic effects.
Meanwhile, utilisation levels have gone back to 90%+ levels on ONE's transpacific and Asia-Europe headhaul trades, and the carrier's management can turn its attention to the roll-out of 2019 contracts, which will include its new floating BAF application.