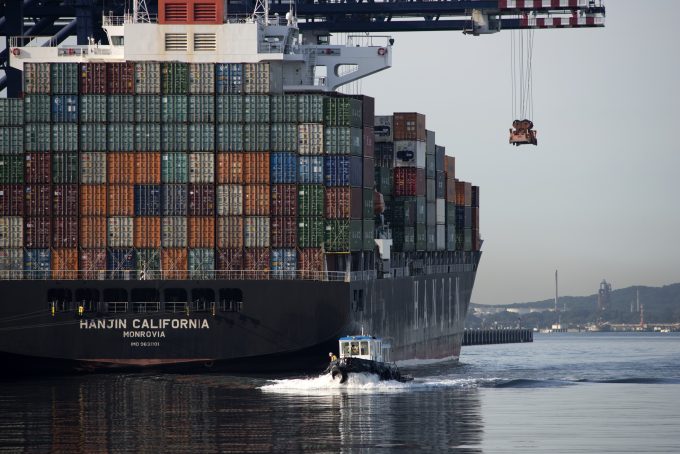 Hanjin Shipping told The Loadstar today it would not be drawn on renewed suggestions from a South Korean government official of a merger with Hyundai Merchant Marine (HMM).
Financial Services Commission chairman, Yim Jong-yong told a news conference in Seoul yesterday that the government would consider merging the two ailing shipping groups once they had "normalised their management".
However, although HMM has achieved charter rate cuts demanded by its creditors, Hanjin is significantly behind the curve on negotiations with shipowners, and is also hampered by arrears of hire payments.
Mr Yim said: "Once the normalisation programme for the two shipping groups is wrapped up, the government will consider various plans, including the merger of the companies."
Hanjin's response was: "We have no comment about Mr Yim's remark."
It added:"Hanjin Shipping at the moment is focusing on improving our financial stability and the normalisation of our business."
On the company's progress in renegotiating charter hire rates with 22 shipowners – a key part of its three-month voluntary agreement with its creditors – Hanjin said it had completed the first round of talks.
"The charter negotiation team has been meeting with all the shipowners, and we have come to a mutual understanding that the way to resolve the charter rate reduction and the arrears issue is through continuous discussion and negotiation."
It said it had explained to the owners of 47 container vessels and 13 bulk carriers, mostly backed by long-term fixed-rate time charter parties, "the necessity" for charter rate cuts. Hanjin added it was "too early to comment" on the outcome of these negotiations.
Hanjin said it could not give detailed information about payment arrears, but some South Korean media have speculated that the carrier is behind by as much as W100 bn (US$84.9m).
In fact, a bulk shipowner detained a vessel in a South African port for three days last month because of late charter hire payments, and containership owner Seaspan revealed that Hanjin was $11.6m in arrears on its charter hire payments as at the middle of last month.
Seaspan, the world's largest non-operating containership owner, has three 10,000 teu ships on 10-year fixed-rate charters to Hanjin and has repeatedly said it would not budge on hire rates for the vessels.
Meanwhile, Greek shipowner, Danaos, which has eight vessels chartered to Hanjin, may have difficulty refusing the charter cut approach, given that it has reportedly already conceded a 20% reduction to HMM. However, unlike Hanjin, HMM maintains it has not fallen behind with payments and thus is on a better footing to discuss renegotiating charter parties.
A broker source told The Loadstar that shipowners would not even consider discussing the matter of charter rate reductions as long as hire payments remained in arrears.
Rather than a merger, the Korean government could opt to rescue HMM and allow Hanjin to slide into court receivership