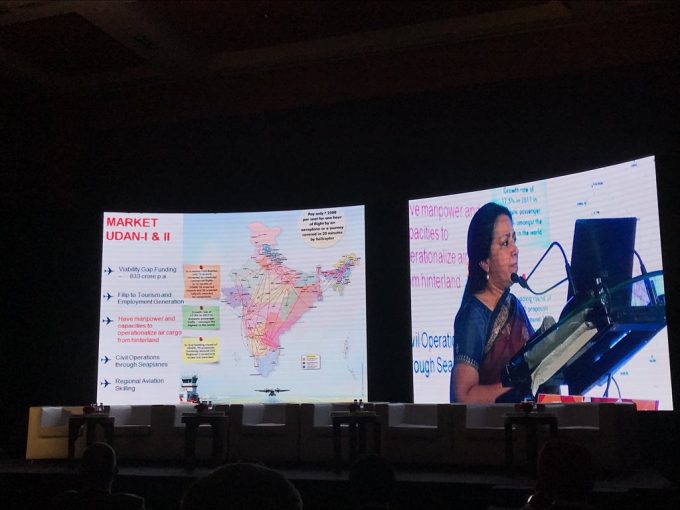 The Indian government has urged the air cargo industry and its shippers to tell it what it needs, promising to be a "silent partner".
Vandana Aggarwal, economic advisor to the Minstry of Cvil Aviation, told delegates at Air Cargo India that the silence from the two parties had been "deafening".
"I can learn from you where you think things need to change," she said.
"Slow and steady stpes by the government may not suffice. Thre air cargo industry employs 35% of the aviation sector, but can an industry succeed when workforce related issues are not addressed?"
The Indian government has big aims for freight. It plans to bring down the logistics costs to 9% of GDP and improve India Logistics Performance Ranking from 35 to 15 by 2020. It is also promoting a paperless regulatory environment and cutting cargo release times, to three days in sea and two in air for imports, and to 2 days for sea and one in air for exports.
"And we want to make logistics an industry, and increase jobs from 22m to 40m by 2020," se added.
"You tell us where the pain point is and we'll do our best to remove it," she said. "The government is your silent partner. This is reality, not just empty words."
To spontaneous applause, she noted that India was already ahead of the world average in e-air waybills. "And Chennai Airport beats everybody by leaps and bounds."
Air cargo in India grew 10% between 2016 and 2017, and 15% last year.  "Mumbai is now clearing cargo in two hours, and Delhi is similar. This is what India can go when it sets it mind to it."
Pointing to significant passenger growth rates since air fares declined last year, she said the government was keen to improve connectivity to the hinterland and across transport modes. And by capitalising on India's successes in technology, air freight could improve.
Ms Aggarwal said the government was exploring a frictionless data interchange, promoted by blockchain. It also wanted to create transhipment hubs; boost regional connectivity; develop an e-cargo platform and e-contracting booking platforms with access to payment gateways; and bring in air and road connectivity. A digital platform would also enable government agencies to participate, and she advocated a "grievances platform" – already developed for passengers, which would allow problems in the supply chain to be solved.
Glyn Hughes, IATA cargo chief, said: "It is always encouraging to hear a government with a plan."