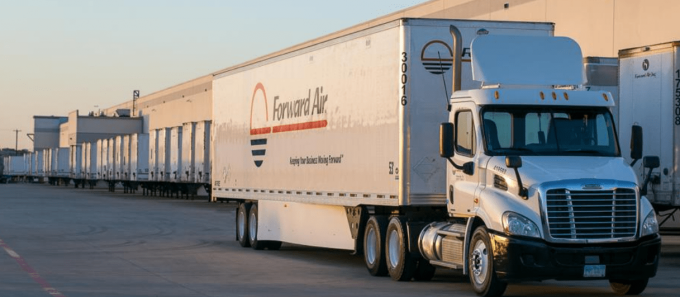 After a tumultuous 2020, US trucking firm Forward Air is on a roll, with Q2 yielding record revenues and operating income.
And management guidance for the current quarter shows continuing growth.
The company tabled revenues of $420.7m, an increase of 49.3% year on year and a new record for any quarter in its history, and a gain of nearly 40% in operating income also set a new quarterly record.
Net income surged from $9.2m a year ago to $30.7m.
The company, which started out as a road feeder service provider for air cargo clients and expanded in LTL and final-mile, posted a 49.3% gain in revenues from expedited business to $351.7m (with tonnage up 39.5%), while intermodal revenue increased 48.9% to $69.1m.
Management attributed the gains to strong market conditions, its focus on the "rock star' expedited and intermodal sectors and a "surgical" approach to the selection, handling and pricing of freight.
The record numbers follow a strong first quarter, when expedited freight revenue advanced 19.9% to $304m, which came after a rocky end to 2020, which saw a cyber attack in December that cost Forward Air $7.5m.
Earlier in the year management had been under attack from activist shareholder group Ancora Advisors, led by former Forward Air executives Scott Niswonger and Richard Roberts, but this was resolved in a reshuffle that saw the pair given new seats on the board.
"As I said in May, we are hitting our stride," said Tom Schmitt, chairman, president and CEO.
The company bolstered its LTL presence in April with the acquisition of J&P Hall Express, a regional expedited player, which is expected to contribute about $19m to revenues this year. And Mr Schmitt indicated during the investor call after the results presentation that there would be more acquisitions down the road.
Forward Air recently added Vancouver to its network, boosting its footprint in Canada beyond Toronto and Montreal. The LTL operation now covers over 100 locations and Mr Schmitt expects to add at least ten new locations a year for the next three years.
Another major focus has been on honing operations and market focus. This year it has taken a fresh look at how traffic is routed and handled in the warehouses. Mr Schmitt said Forward Air would enforce palletisation and stacking to make flows smoother and would stop accepting items like kayaks and rugs and goods exceeding eight feet in length.
The narrower focus on business selection targets shippers that generate higher density, such as the medical equipment sector. This extends to seasonal shifts in sales focus in line with different seasonal patterns of various industry verticals.
Fine tuning also applies to regional variations. In June, the company announced a revised compensation plan for drivers that offered them increased pay for traffic to destinations that are congested or otherwise awkward to serve. At the top of the scale, pay has gone up to 25 cents a mile to truck teams and 12.5 cents to solo operators that haul cargo to the US north-east.
And customers face higher surcharges in locations with higher volumes of traffic, which may induce them to consider alternative routings. On the flip side, shippers should not pay a surcharge for traffic to destinations that are not adding incremental costs, said Mr Schmitt.
Management envisages significant growth in the third quarter. Recently appointed CFO Rebecca Garbrick explained: "We expect our year-over-year revenue growth will be 28% to 32%, and our net income per diluted share to be between $1.03 and $1.07, compared with $0.61 in the third quarter of 2020."