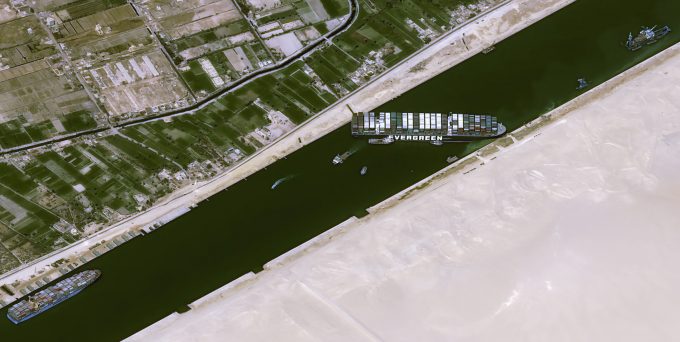 The first Asia-Europe container vessels have begun to be rerouted around the Cape of Good Hope, according to new AIS data.
According to VesselsValue's ship tracking data, Evergreen's 20,400 teu Ever Greet, deployed on the Ocean Alliance's NEU6 service (the same string as the stuck sister ship Ever Given), which had been en route from the Malaysian transhipment hub of Tanjung Pelepas to Suez, changed course yesterday and began heading towards South Africa.
"The vessel's normal Tanjung Pelepas to Rotterdam journey via Suez takes around 22 days (circa 8,400 nautical miles), travelling at the vessel's average speed of 18.3 knots, according to VesselsValue's Trade data.
"Reroute via Cape of Good Hope is around 28 days (circa 12,000 nautical miles), according to VesselsValue's route calculator, plus the time already spent sailing towards Suez before diverting, so they expect it to be worth the extra six-day sailing vs waiting.
"The journey has already covered a distance of 2,844 nautical miles," VesselsValue told The Loadstar.
However, OOCL Logistics, the forwarding operation of the Hong Kong-based shipping line, confirmed in a customer advisory that carriers had begun weigh alternative routings, but warned of increased transit times and higher costs.
"We have learnt that carriers are considering alternatives, such as diverting vessels currently at various ports of loading around Cape Hope to avoid prolonged delays. This could mean an approximate seven-day delay, compared with the original ship schedule.
"To recover the additional cost, we understand some form of surcharge is being considered by carriers," it said.
Meanwhile, the queues of vessels waiting for a canal transit continue to lengthen as fears grow that the operation to refloat the Ever Given and clear the waterway could take days, and possibly longer. According to the vessel's manager Bernhard Schulte Shipmanagement (BSM), salvage teams began dredging operations yesterday and are expected to last until Saturday night.
"Arrangements are also being made for high-capacity pumps to reduce the water levels in the forward void space of the vessel and the bow thruster room.
"Another attempt to re-float the vessel earlier today, 26 March 2021, was not successful.
"Smit Salvage team on board confirm there will be two additional tugs of 220–240 tonne bollard pull arriving by 28 March 2021 to assist in the re-floating of the ship," a statement from BSM said today.
Hopes of a successful re-floating operation after that will also rest on the moon, literally.
The tidal range in the region is gradually increasing over the next few days as it moves from neap tides to spring tides, with Sunday-Monday evening set to show the highest tides before the range begins contracting back towards neap tides.
If there is not enough water to clear the vessel on Monday, the next possibly high enough tide may not be for another fortnight.
According to supply chain platform Project44, which recently acquired shipping visibility platform Ocean Insights, as of midday today, some 63 boxships were waiting to transit the canal.
Project44 calculates that $48.74bn goods are stuck in transit in cargo vessels only, along with some $1.3bn (3.3bn barrels) of crude oil.
It further calculates that the operating costs of the fleet at anchor now amounts to $3.25m a day – or $142,600 a hour – for the cargo ships and $500k a day for stranded tankers.