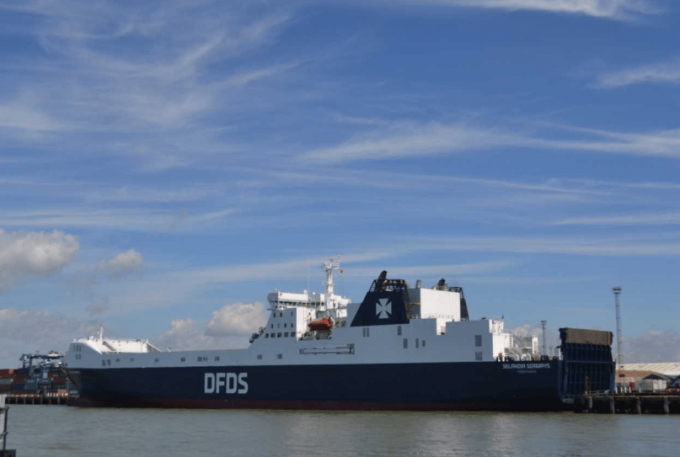 The port of Felixstowe has announced that it is to increase its ro-ro capacity for ferry operator DFDS by some 40%.
The development could be seen to be preparation for a surge in demand for services outside the cross-Channel Dover Straits corridor post-Brexit, but a source at the port said it was already in its plans and the timing with Brexit was "largely coincidental".
The UK's largest container port will build a new linkspan, expand its trailer storage facility and acquire additional tractor units to handle a jump in unaccompanied ro-ro freight units coming from mainland Europe.
The Danish shipping line currently runs two-to-three sailings a day between Felixstowe and Rotterdam.
"Demand on DFDS's service to Rotterdam has been growing steadily for a number of years and we are delighted to have agreed a new contract to secure the service at Felixstowe for another 15 years," said Clemence Cheng, chief executive of the port and executive director of its owner, Hutchison Ports
"The new contract includes a significant investment by Hutchison Ports replacing one of our existing ro-ro bridges with a modern floating linkspan capable of handling the latest generation of ro-ro vessels and creating over 300 additional trailer spaces for unaccompanied ro-ro traffic."
The first of the new trailer spaces are likely to be made available in June.
"This investment is driven by our long-term confidence in the ro-ro route between Felixstowe and Rotterdam. We are seeing increasing interest in both ro-ro and shortsea container connections at all three of our UK ports as shippers seek to minimise risks to their supply chains resulting from Brexit," added Mr Cheng.
DFDS president and chief executive Niels Smedegaard said: "We are very excited about this investment, which allows us to further enhance the high level of customer service that is expected by our clients.
"It is also a further step in our striving to provide necessary capacity to continue supporting our customers' trade and business, even in a post-Brexit world."