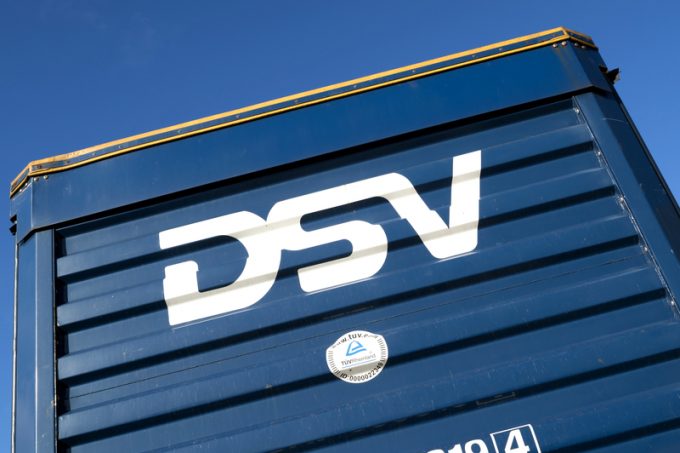 Even by DSV's dry standards, the 'Two Jens Show' – this year with the added attraction of new CFO Michael Ebbe – was a dull earnings call.
Competent, yes, exciting, no. There are no acquisitions in the pipeline, no earth-shattering news, but in among the "strong set" of financial results, there were a few notable comments, however.
Firstly, the company believes the disruption in air and sea will "continue for a great part of this year", yields will decline and volume growth will be challenging.
Air&Sea, which accounts for 63% of its gross profit, saw ebit for the year rise 81% to Dkr12.7bn ($1.95bn), with the fourth quarter seeing a 124% rise, year on year.
"We expect volume growth in air, and slightly less in sea," said Mr Ebbe. "Volume growth will be in low single digits this year.
"During integrations, volume growth is slightly less, but when it's done there will be more opportunities for growth."
CEO Jens Andersen pointed out: "It is a fundamental fact that when we do acquisitions, we are not in a position to offer market growth. There is some dilution. Some customers get a drop in service levels and will leave. We expect organic growth by the end of the year."
The company added that "the situation in air and sea changes basically every month".
"There is a limited amount we can say about 2022, but the strong performance in Q4 has continued into this year," said Mr Andersen. "There has been no change in current market conditions. We are all asking how long this will be for. We need to expect things to change from one week to another."
Its guidance foresees declining yields in the second half, when there may be less disruption.
Road was a little more interesting, with the continuance of its rollout of the Road Way Forward project – "a digital production system and standardised workflows to support our European Road network". The platform is similar to that of its Air & Sea division, which the company expects will lead to greater volumes as more processes are automated.
Costs for customers in road are rising, following the introduction of the EU mobility package this month.
"We think it's not very rational. It's a regulation for everyone in Europe, so that's fair enough," explained Mr Andersen.  "But some elements don't make sense to us, for example, trucks have to go home every eight weeks.
"The buyer needs to pick up this tab unfortunately. Customers are not too happy, but there is some understanding about it – it's clear and easy to explain that it has come from outside the industry.
"We will probably pay more to suppliers, haulage companies, as their costs have gone up, and we are passing that on."
Road, which accounts for 19% of the company's gross profit, saw Ebit rise 33% to Dkr1.8bn.
In Solutions, which includes contract logistics, DSV saw 53% growth in ebit to Dkr1.7bn. It noted that contract logistics had been "behind", but had a good fourth quarter, which saw ebit rise 64%.
It was perhaps once outside its financial results that the call got more interesting. Indirectly, perhaps, there was a comment on Maersk's decision to focus on its shippers alone, with a one-stop integrated cross-selling platform.
Mr Andersen said he wouldn't comment on "individual asset owners", but said DSV "does get the capacity we need. It's good to be big, in that respect".
But he also explained DSV's own customer base: "Our top 200 customers – about 30% of total sales – are relevant for cross-sales. Of them, probably half will work with multiple divisions. There is a large unexplored opportunity with many customers."
But, Mr Andersen added that "some customers don't want to allocate too large a proportion of business to us", indicating that shippers may not be willing to put all their eggs into a one company's basket, a sentiment backed by other large global forwarders.
He also said DSV had managed to compete successfully against a wide range of rivals, including subsidised ones like post offices, and that the amount of money being spent by the shipping lines would not affect DSV.
"We have to focus on our own strategy," he commented.
There was also a mildly rude note on digital forwarders, which felt like a comment specifically on Flexport, which has focused its offices in big cities.
"Digital forwarders don't have classic capabilities. They think you can run it from the third floor of a building in a big city," said Mr Andersen dismissively. "We have to monitor it closely, and some have more traction than others. To get traction, you need to develop attributes that make them similar to us. We have to deliver the same data and integration as they do."
No M&A was immediately forthcoming, but Mr Andersen did say that "in the past 10 years, all the companies we have wanted to buy, with one exception, we have bought. I can't remember competing with anyone and not being successful."
Any decisions to acquire would be based on DSV's own performance as much as the target's, he said.
"The value comes from buying businesses with weaker performance [than us], then bringing it up to the level of our own. If you can't drive up profitability, you can't create the same value."
Overall, DSV saw revenues grow 57% to Dkr116bn, while ebit, before special items, rose 70% to Dkr16bn.
You can read the full report here.