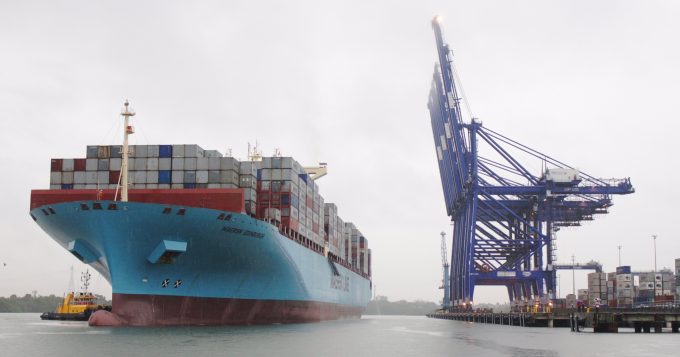 Fresh from the disappointment of Rickmers Maritime Trust in Singapore being wound up, Hamburg-headquartered Rickmers Holdings has announced that its shareholding is set to be dramatically changed, with sole owner Betram Rickmers reduced to a 24.9% stake.
The group's creditors and bondholders, led by HSH Nordbank, will form a Luxembourg-based LuxCo to assume all liabilities of the group, take the remaining 75.1% shareholding and assume the debt on the bond that runs from 2013 to 2018, which is subject to restructuring.
Masked in complex legal and financial language, a statement from Rickmers said that if its debt restructuring plan was not approved by creditors, bankruptcy of the group would likely follow.
"The restructuring report was prepared with the involvement of all relevant stakeholders, including the bondholders' designated joint representative," says the statement.
"It enables a solvent continuation of Rickmers Holding AG at terms which, pursuant to the present liquidation value report, are considerably more favourable for the bondholders than an insolvency of Rickmers Holding AG would be.
"Should the corporate bodies of the creditors and/or the bondholders not approve the proposed restructuring, the restructuring would likely fail and the going concern forecast of Rickmers Holding AG would likely no longer apply."
As for Bertram Rickmers himself, he has committed to ploughing €10m of his personal funds into its capital structure, as well as "relieve the Rickmers group from a shipyard liability of a further $10m, to waive licensing fees up to the end of the first quarter of 2021 and to procure a back-up loan facility of up to a further $10m for possible future liquidity requirements".
This follows a €13m cash injection he put into the group last year.
According to data from vesselsvalue.com, today's value of the Rickmers group is around $740m.
Its fleet is made up of four multipurpose vessels, two vehicle carriers and 35 containerships ranging from feeders to eight of 13,000 teu on charter to Maersk.
It also has four 1,900 teu newbuildings being constructed at Jiangsu New Yangzijiang shipyard in China, worth a combined $68m, according to vesselsvalue.com.
At the heart, Rickmers' problems are inextricably linked to the ongoing weakness in most parts of the container shipping industry – overcapacity led to weak freight rates, which in turn fed back into massively reduced daily charter hire rates and, thus, huge vessel impairments for shipowners
"Over the past 12 months the Rickmers fleet has declined in value by 31%. This matches the decline of the liner business that is plagued by oversupply of tonnage and slow demand growth," vesselsvalue.com said.
"This decline is supplemented by strong selling and demolition activity from the shipowner. Ten vessels have left the fleet in the last 12 months," it added.