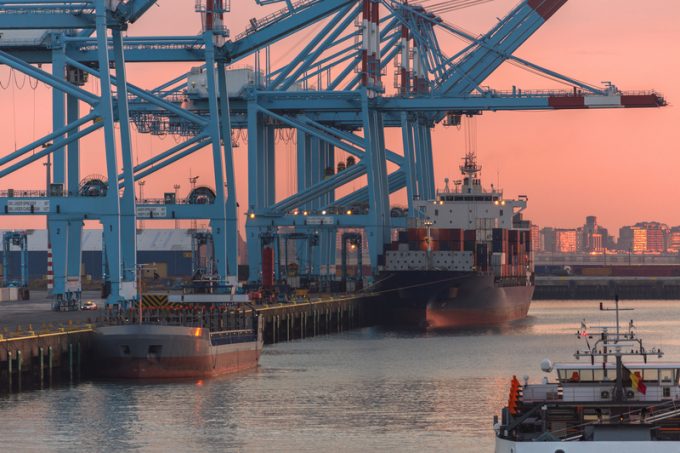 Cosco has begun to realise its ambitions to turn the Belgian port of Zeebrugge into its major North European hub, according to new analysis from Alphaliner.
The consultant notes how the Chinese shipping line and its Ocean Alliance plan to significantly increase the number of calls at the port, which has been in decline in recent years as transhipment activities in the region have been largely concentrated at Antwerp and Rotterdam.
However, following Cosco's acquisition of the port's box terminal, CSP Zeebrugge, in 2017 and the subsequent conclusion of a concession agreement with the port authority early last year, the alliance will this week swap the Rotterdam call on the Asia-Europe NEU1 service to Zeebrugge.
The first call will be on 11 May, part of a service operated by 11 ships of 19,000-21,000 teu capacity, and will add to the existing Zeebrugge call on the NEU3 Asia-Europe service, which runs 13,300-14,500 teu vessels.
"To coincide with the revamp of the two Far East-North Europe loops, Cosco will include Zeebrugge in the rotation of its North Europe-Baltic RFS service from mid-May, allowing new connections to/from St Petersburg via Zeebrugge," Alphaliner reports.
"Cosco Shipping Lines is expected to bring further changes to its intra-Europe network as it starts using Zeebrugge as a European hub with plans to organise new Zeebrugge-Dublin and Zeebrugge-Bilbao connections in the short term," it adds.
Alphaliner data shows container traffic at Zeebrugge hit a high of 2.5m teu in 2010, before dropping to under 1.5m teu in 2016, which was largely shortsea ro-ro boxes.
It also reports that CSP Zeebrugge is getting new investment to handle larger vessels, with work underway to "raise some of the seven ship-to-shore gantries".
It explains: "Over the course of the coming months, five units will be heightened by twelve metres, allowing the cranes to work 12 tiers of deck containers on 'megamax' container vessels."