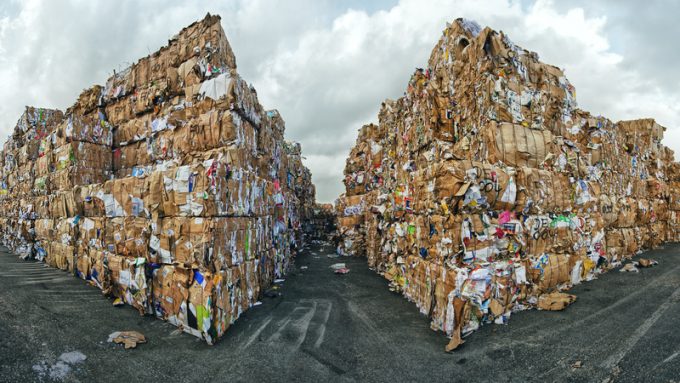 Container shipping lines could lose around 5m teu of cargo a year following the recent import ban on a wide variety of waste materials for recycling, according to new research from Drewry Maritime Advisors.
China brought in new rules on 1 January, applying from 1 March, which will see a complete ban on the import of unsorted waste paper, Vanadium slag and waste textiles, as well as wide-ranging restrictions on other recyclable materials such as a steel, plastics, wood, paper and cardboard.
In 2016, China imported around 30m tonnes of waste paper and 8m tonnes of waste plastics, and the ban has already led to growing mountains of waste products in the US, Japan and Europe as dealers struggle to find alternative recycling facilities.
One in-depth report claims the ban could create crises around the world equivalent to a major natural disaster.
The problem for ocean carriers is that waste products constitute a large percentage of backhaul volumes from Europe and North America to China – the US exported two-thirds of its waste paper to China in 2016, some 13.2m tonnes, and about half of westbound transpacific violumes are waste products for recycling.
Drewry said: "Unless there is a dramatic about-turn, carriers can kiss goodbye to those banned paper and plastics shipments. Drewry estimates that worldwide unsorted paper imports to China were in the region of 500,000 teu in 2016, while the still-legal other types of waste paper added another 2m teu.
"Adding in the other lower-volume commodities affected by the new ruling, Drewry estimates that there could be as much as between 4-5m teu at risk, equating to nearly 3% of world loaded container traffic."
However, while the loss in terms of volumes is substantial for an industry continually struggling to balance demand for containerised transport with supply of slots, the financial implications are smaller as waste products are routinely shipped at some of the lowest freight rate levels.
"For the carriers, this development will not break the bank, as the ocean freight earned for backhaul waste shipments is extremely low," added Drewry. "But they do at least provide some contribution, at least, to the costs of repositioning containers back to Asia."
In addition, there may be further relief from the ongoing restructuring of the Chinese economy, which has seen demand for other, higher-paying, imports increase.
"Clearly, volumes from the US and Europe to Asia will fail to reach the heights they could have without China's decision, but all is not lost for the backhaul trades as other rising cargoes can help fill the gap.
"Chinese imports of beef, for example, have soared in recent years, reaching more than 800,000 tonnes in 2016 – compared with just 6,000 tonnes 10 years before – as rising incomes have boosted meat consumption and Beijing recently removed restrictions on the import of American premium grain-fed beef, which should provide a boost," it added.