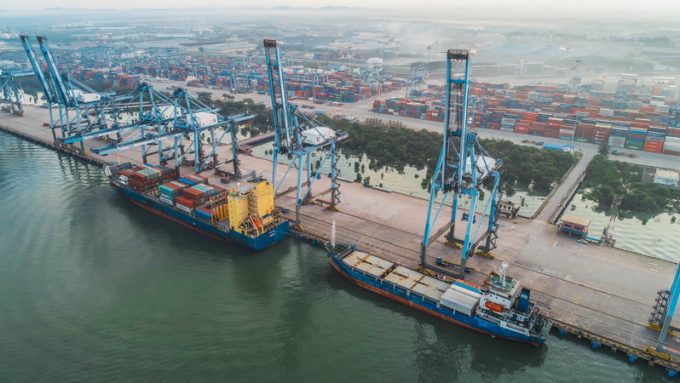 Port Klang has slammed claims it is suffering "endemic congestion", caused by nearly two-thirds of all boxes being rolled last month.
Last week, supply chain visibility platform Project44 claimed rollover rates were rising at ports around the world and labelled Malaysia's Port Klang as the worst performer, with 64% during April.
However, Subramaniam Karuppiah, general manager at Klang Port Authority, is reported as claiming the Project44 data was "inaccurate" and the actual rollover rate was just 12%.
And the port's two terminal operators agree. A representative of Northport told The Loadstar the 64% figure "doesn't seem to reflect what is actually happening here".
And Ruben Emir Gnanalingam. group MD of Westports, the port's largest terminal operator and a key transhipment hub for South-east Asia, said:"Rollovers are not 64%, and 12% is probably a lot more accurate – but I am not sure they are even that high at the moment.
"I have no idea where Project44 get the data from, but it certainly has not been verified by us."
Mr Gnanalingam said rollovers were common at transhipment hubs like Port Klang and were "partially what hubs are designed for".
He added: "Rollovers at pure final destination ports are more problematic, as it means exports are not moving out. The majority of our volumes are transhipment cargo and some rollovers are always present with transhipment."
Project44 claimed Port Klang's rollover rate caused "endemic congestion", but Mr Gnanalingam said rollovers did not necessarily result in congestion.
"We have had many occasions where rollovers are high with absolutely no congestion at the berth, yard or gate," he said.
And, although there is some congestion at Port Klang, Mr Gnanalingam said it was "far less" than at other ports in South-east Asia".
He explained: "The current congestion has more to do with supply chain disruptions globally – nothing is moving on time and nothing is moving in the way it used to. Without consistency and certainty, there are more peaks and troughs. With that, comes more congestion.
"We expect things to get back to more normality globally towards the end of this year. Retail needs to move; cargo in warehouses need to move; boxes need to move. It all needs to move in patterns for the supply chain to move efficiently and reduce congestion."
Ocean Insights, the Project44 company, told The Loadstar it stood by its data, which is received or pulled from shipment status updates from shipping lines.
"We are happy to discuss our methodology with the disputing parties," it added.
The company has invited readers who would like further information about its data and calculations to write to [email protected]