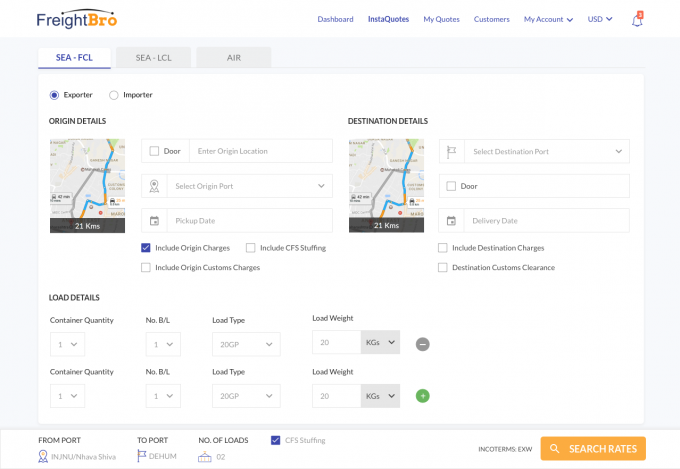 Chennai-based start-up FreightBro is the latest firm looking to convert India's small and medium-sized freight forwarders from paper-based businesses into "highly efficient digital marketplaces".
By automating internal rate management and reducing "pre-shipment inefficiencies" the cloud-based software-as-a-service (SaaS) solution allows forwarders to boost sales and cut quotation times and costs by 90% and 50% respectively, FreightBro claims.
"Typically, shipments which are ready lie idle in the shipper's warehouse for three-to-four days just to get rates and finalise the quote because of the back-and-forth communications between sales, pricing, the carrier, customs broker and negotiation with the customer," said FreightBro co-founder and chief executive Viswanthan Raghavendra.
"With our product a forwarder uses a portal similar to Expedia and just searches origin and destination and gets his internal rate – this is not the rate from the liner or from the airline – it is his internal rate which is updated by his pricing team. These internal rates are shown to the sales guy and he's able to create a PDF quote in less than two minutes and send it to his customer."
This Expedia-like portal is created by FreightBro's back-end engine which uses algorithms to automate prices sent by carriers. Schedules are pulled from multiple carrier websites simultaneously for "further convenience and more efficient selling".
A track-and-trace feature is included to allow shippers to monitor their cargo in real-time – FreightBro generates a "shareable link" which forwarders can pass on to customers.
FreightBro also acts as a digital network for freight forwarders by allowing firms to view and procure rates from other users.
"Our end goal to become a digital network for India – say if a forwarder outside India wants to contact an Indian forwarder, they can just contact FreightBro and we'll push off the request to all the forwarders on the portal," explained Mr Raghavendra.
Launched in October 2016, FreightBro now has 150 Chennai-based forwarders each paying a monthly subscription fee to access the platform. Plans to expand into Mumbai are underway.
"They're not just using sales automation, they're buying and selling on the portal, communicating with their customers, using our APIs [application programme interfaces], and doing everything a forwarder normally does offline, online," said Mr Raghavendra.
Following experience at both Panalpina and DHL, he said he was motivated to launch FreightBro to help India's SME-forwarders survive industry disruption from digitisation without needing the technology expertise or large capital investments to develop their own solutions.
"These forwarders are very good at handling their customers, and good at on-the-ground operations, but they're not good at technology.
"And like the digital disruptions happening in every other industry, the freight forwarding sector is also getting into the grind where only the guys who adopt technology are going to survive.
"So even the mom-and-pop stores can stay in the game if they can use good software and technology – we can make each and every forwarder in this industry a digital forwarder in less than a week."
While there are a number of logistics start-ups attempting to automate and digitise freight forwarding by directly connecting shippers with forwarders and carriers through online marketplaces – this is not FreightBro's approach, he added.
"We don't want to be a marketplace between shippers and carriers, or between shippers and forwarders, because we believe – in India at least – it's still a relationship marketplace.
"A small shipper or a small importer has a good relationship with his existing forwarder and this relationship cannot be wiped away with just tech – you need a relationship and a point of contact," said Mr Raghavendra.