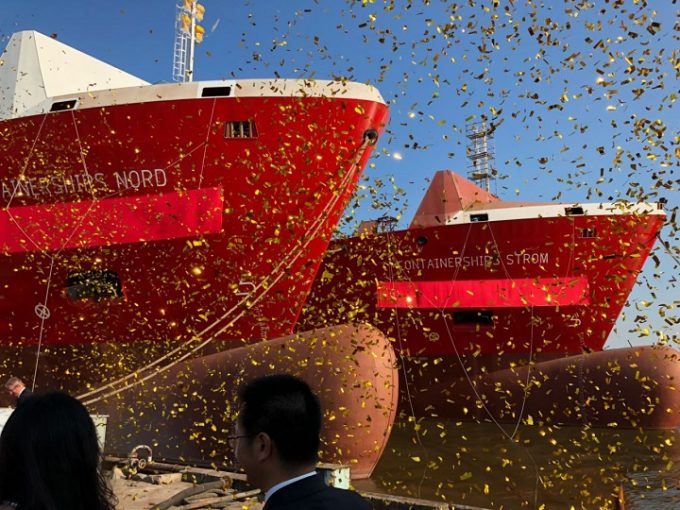 Following the announcement yesterday of the impending sale of its shipping business to CMA CGM, shortsea operator Containerships has sought to reassure its staff, customers and service providers that it will be business as usual for the next few months.
The Helsinki-based operator said today: "At present, the restructuring does not have any impact on Containerships' brand or operations."
It said Containerships continued to be committed to "further develop its routes and services" and its "LNG strategy", which will see the launch of four LNG-powered vessels between August and January next year.
It added: "Containerships is pleased to continue the cooperation with its valued customers and partners now and in the future."
Nevertheless, subject to the deal being approved by the relevant authorities, French carrier CMA CGM will merge the Containerships services with those of its shortsea subsidiary, MacAndrews, after the transaction closes in three-to-six months' time.
MacAndrews was acquired by CMA CGM in 2002. In 2015, it also bought Iberian and Canary Island specialist operator OPDR, which was merged into MacAndrews in January this year.
Lars Jensen, CEO and partner at SeaIntelligence Consulting, said: "Consolidation continues and, as expected, we are in a phase of culling the minor and mid-sized niche carriers.
"The really interesting part is that CMA CGM will, with this [acquisition] have 11 liner shipping brands, far outstripping any other carrier in terms of pursuing a multi-brand strategy to differentiate in an increasingly commoditised market."
The Containerships operation – a Baltic Sea and North Sea service and the newer intra-Mediterranean – would dovetail nicely into the MacAndrews network, enabling rationalisation of competing links and providing synergy cost savings. For example, both Containerships and MacAndrews offer liner services from North Europe to Poland and Sweden.
Also high on CMA CGM's agenda will be the need to consolidate its shortsea port operations.
In the UK, for instance, MacAndrews returned to Tilbury's London Container Terminal (LCT) in January 2016 to consolidate its operation with OPDR, after a three-year hiatus during when it hubbed its services at Hutchison's Thamesport. LCT had succeeded in replacing the departing MacAndrews in 2014 with a new customer won from Felixstowe, OPDR.
Containerships runs out of Teesport in the north of the UK and Thamesport in the south, but it seems the odds are in favour of operations in the south of the country being consolidated at Tilbury at some point after the acquisition.
According to Alphaliner, Containerships operates a fleet of 14 container vessels for a capacity of 11,763 teu, of which 13 ships are chartered-in. It also has the four 1,400 teu LNG-powered ships on order.
The company recorded a net profit of €1.7m ($1.97m) last year after losing €1.4m in 2016 and €6.7m the year before. Containerships has been listed on the Nasdaq Helsinki stock exchange since April 2016.