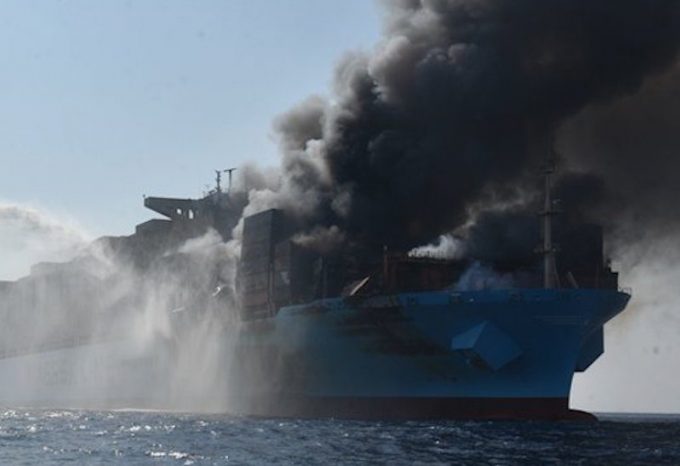 After the first boxship fire of the year was deemed to have been caused by misdeclared lithium batteries, forwarders have warned that shippers need to be better educated about cargo declarations, or face increased regulation.
According to Chinese shipping line Cosco, the fire onboard its 10,000 teu Cosco Pacific this month was caused by lithium batteries falsely declared as spare parts.
Two containers were destroyed and a number of adjacent boxes damaged. The vessel only resumed its voyage to India from Malaysia's Port Klang today after spending the best part of two weeks moored at Colombo,
Barcelona-based freight forwarder iContainers said today the issue would need to be addressed and said part of the problem stemmed from misinformed shippers and inept practices.
"Forwarders are still taking the shipper's word for what's loaded in the container. This puts the forwarder at risk, especially if the shipper's paperwork is not in order," said Klaus Lysdal, vice president of operations.
He said failure to tackle the problem before it gets worse could ultimately lead to regulations that could cause an increase in shipping costs, as well as increasing shipment times due to greater need for inspections.
"Some of the carriers' initial steps to increase fines may help. But if this persists, it could result in mandatory manual inspections or similar moves to protect against these types of issues," he said. "Something like that would obviously lead to additional costs.
"But something has to happen as we cannot keep having fires happening on board vessels."
He said an added imperative was growing vessel size, because larger capacities increased the risk from misdeclared cargo on board.
Meanwhile, the Nautical Institute, an NGO that has observer status at the IMO and focuses on the human element in shipping, is due to hold a one-day conference in London in April to discuss containership fires and their prevention.