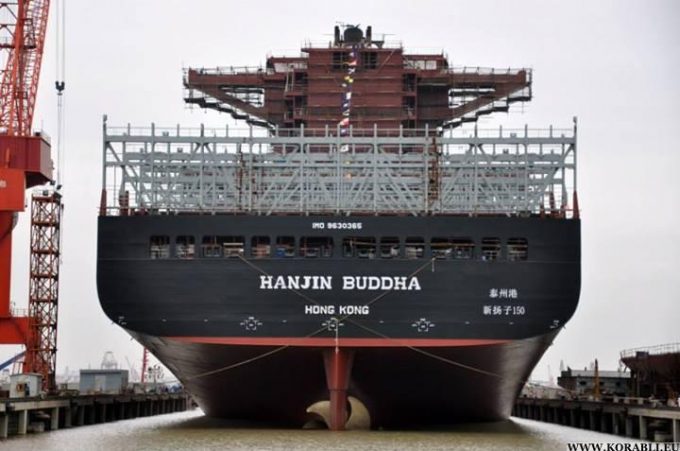 The largest bankruptcy ever to take place in container shipping now appears inevitable after the board of Hanjin Shipping voted unanimously to file for court receivership in South Korea today.
And liner analysts warned box shippers and their forwarders to expect severe disruption throughout the container supply chain as the complicated web of alliances, vessel sharing agreements and slot swaps unravels.
Alan Murphy, chief executive of shipping analyst SeaIntel Maritime Analysis, told The Loadstar: "Due to the increased cooperation of container carriers, the impact will be felt far beyond Hanjin and its customers, especially by its partners in the CKYHE alliance.
"But the impact will also ripple through the many vessel sharing agreements in non-alliance trades, as well as through carriers trading slots with Hanjin.
"Shippers are likely to be surprised by the extent of such cooperation, and that even though they are not customers of Hanjin they may be still be heavily affected by the turmoil."
Mr Murphy added that "considerable disruptions" should be expected to any services in which the carrier's vessels deployed, "and the extent of these disruptions will to a large degree depend on how the other CKYHE carriers react in the coming days".
"We may see them scramble to pull Hanjin vessels out of major rotations, or set up quick-and-dirty sub-charter agreements to ensure that the charter vessels can keep on sailing, but due to the sheer size of Hanjin's fleet, this is not going to be an easy task," he said.
Trading in Hanjin shares remained suspended today after slumping 29% yesterday following a decision by chief creditor Korea Development Bank to end its support for the line after rejecting its latest rescue plan.
According to Drewry Maritime Equity Research, after the first six half of the year, Hanjin had a total debt of $4.2bn and net gearing ratio of 8.7x, with cash reserves of just $156.5m.
Hanjin's deployed capacity amounted to 609,500 teu across 98 container vessels, according to Alphaliner; compared with the next largest bankruptcy, that of US Lines in 1986, which had a total capacity of 93,000 teu, although at the time it was the second largest fleet in the world.
Already there have been reports of some vessel arrests, with the 5,300 teu Hanjin Rome in Singapore and the 13,100 teu Hanjin Sooho in Shanghai reported to have been detained, while some of the line's partners in the CKYHE alliance have begun to announce their contogency plans.
Evergreen told forwarders and shippers that, effective immediately, no Evergreen Line cargo will be loaded on a Hanjin vessel and vice versa, while Cosco announced it had begun emergency contingency planning for its containers already aboard Hanjin vessels.
"With regard to the cargo already shipped or to be shipped, we will do our utmost to take care and execute our liability of custody so as to avoid any possible obstacles to shipping and prevent both of us from the negative influence," it said, and called for shippers to supply relevant information "about any influence caused by potential bankruptcy of Hanjin Shipping so that we can try our best to protect your interests".
And while the company's entry into court receivership does not necessarily mean bankruptcy would follow, the reluctance of shippers and forwarders to book with the line means it will almost be impossible for it to see any cash coming into the line.
Mr Murphy said that for existing customers, a quick-moving acquisition of Hanjin's assets by a competitor was the only hope of mitigating the fallout, but he warned this would be unlikely.
"It is very unlikely that we would see a non-CKYHE carrier step up to that particular plate, as the major beneficiaries of such a saving grace would be Hanjin's partners, and they themselves are likely not in a mood to throw more money after more vessels."
And he added that despite some suggestions that Hanjin's compatriot, Hyundai, might look to purchase these assets, given the terms of its recent restructure – most importantly the proviso that new funds be used for procuring ultra large container vessels which are not part of Hanjin's fleet – are likely to preclude such a move.
While the news of Hanjin's failure will be welcomed across an industry plagued by low freight rates as a result of overcapacity, its exit from the market will mean its ships – chartered vessels will likely be returned to their owners could well be sold as distressed assets.
According to vesselsvalue.com, its 39 box ships have an aggregate value of $1.39bn, while the total value of its fleet, including tankers and bulkers, comes to $1.73bn.
Shipowners directly exposed to the bankruptcy include Seaspan, Danaos, Conti Reederei, Ciner, Kukje Maritime Investment Corp, Rickmers and PIL.