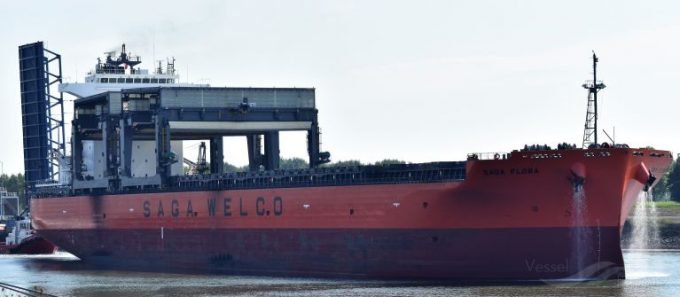 Desperation in the freight market where congestion, delay and poor service have been accompanied by rising freight rates and ever more surcharges, has led one UK freight forwarder to see if it can do better, by chartering its own vessels.
DC Global Freight Management (DCGFM) has chartered three vessels, two of which have already made three voyages from the Ningbo/Shanghai region to the UK, direct, in 28 days.
The Saga Flora (pictured above), a 55,600 dwt general cargo vessel owned by Norwegian Saga Shipholdings, according to vesselsvalue.com has departed from Shanghai and is due to dock in Liverpool on 22 November, with 433 teu on board.
A second vessel, the BBC Ukraine, is due to dock in either Liverpool or Tilbury in December, depending on berthing availability, said DCGFM. The 12,325 dwt general cargo vessel carries 750 teu.
The third, the 64,942 dwt Maritime Voyager, built in 2016 and owned by Singapore-based IMC Shipping, is capable of handling 1,500 teu, said DCGFM, and is scheduled to arrive in the UK in January.
DCGFM marketing director David Frieslander told The Loadstar: "We have established deals with hauliers in the UK and in China; we are accepting cargo from Ningbo and Shanghai and have a deal with CY, which manages yard space in Shanghai, so containers can be transported there for export."
The company is operating a dedicated service for UK consignees that have seen their UK-bound cargo offloaded in various ports in Europe, as the congestion and delays in Felixstowe and other UK ports has increased, giving consignees little certainty where their cargo is and when it will arrive in the UK.
"Getting freight from China to the UK has become difficult due to the pandemic, the price of oil, lack of containers, port space, lorry drivers and even port quarantines," said James Cross, DCGFM MD.
"Our client base demands a fast, efficient, and direct service from Ningbo and Shanghai in China. We've got that scheduled service which takes approximately 28 days transit time. Our rates are very competitive because these are our chartered vessels exclusive to us."
According to Mr Frieslander, DCGFM can undercut the current freight rates of the major liner operators "in most cases", and with any extra charges due to vessel delays or increased fuel consumption absorbed by the forwarder and not passed on to the cargo owner.
"Shippers would want to pay a bit extra to get freight delivered directly into the UK," added Mr Frieslander, and he said although the ships would be bringing in Christmas cargo, "we want to continue well beyond the holiday period".